Diane Landy, Health Equity Champion
August 21, 2020
Hello, Everyone! My name is Diane Landy. I am the TSN/WIC Outreach Coordinator in Southern West Virginia. The area that I serve is an area historically known for its coal mining heritage, an area largely suffering from poverty and population loss.
My state is a part of Appalachia, a geographical and cultural region in the eastern United States named after the Appalachian Mountains, its community members sometimes still stereotyped as hillbillies, a term derogatorily used to undermine the merit of people living there. Because of its rugged terrain, we have food deserts and transportation issues, as well as other issues that create health inequities.
My health equity achievement is a literacy based event which targets WIC participants and potential WIC participants. It promotes the WIC program, the importance of reading to infants shortly after being born using dialogic reading techniques, an awareness of healthy foods, and has long-term potential to reduce health disparities. You see, with literacy, comes knowledge and power. Recently, after creating a Chef WIC character for a child's story, I noticed children and adults seemed to be captivated by the character. I then had an epiphany about the character's potential in relation to the Advancing Health Equity to Achieve Diversity & Inclusion (AHEAD) in WIC project. It is my hope that a series of Chef WIC books designed to appeal to the 7 million young mothers and children that WIC now serves can become instrumental in cultivating health equity, removing prejudice and bias, and dismantling anti-black racism attitudes in communities nationwide.
Applying an equity lens to the WIC program is extremely important because it has the potential to knock down or narrow the gaps of existing inequities. I am excited about being a Health Equity Champion because it's an opportunity to help those in need.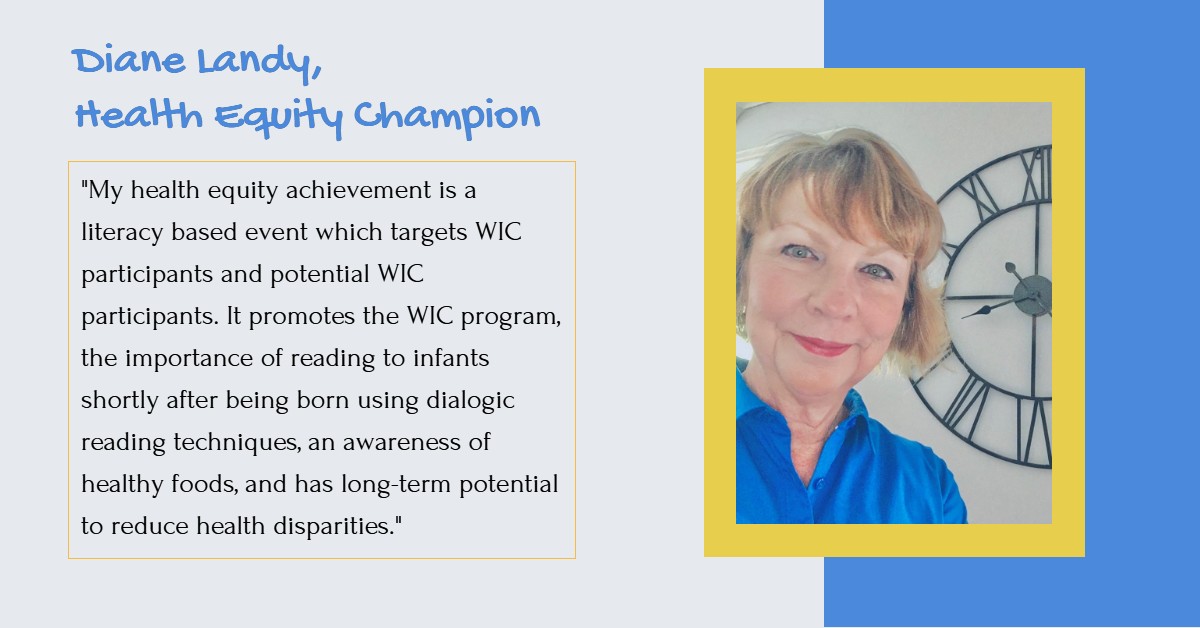 Diane's social media handles:
Facebook: Diane Landy
Instagram: @divinefascination