Our New Website – Designed with You in Mind
November 14, 2013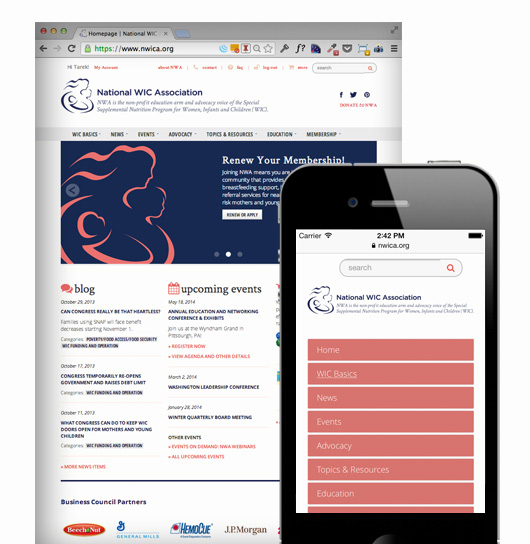 If this isn't your first visit to nwica.org, then maybe you've noticed that our site has undergone a few changes recently. In early October we launched the new nwica.org, the result of nearly a year of efforts to make this website easier to use and a better experience for you. This blog is one new addition to our site and we hope you'll explore the other new features we touch on below and possibly participate by making a comment or two on our posts.
The following are highlights of improvements we made to better serve you:
New Organizational Structure
The site was completely re-organized to make information easier to find. The site has a new navigation menu that will help get where you're going more quickly.

Topic Areas
We developed six new sections (under Topics & Resources) covering the WIC-related topics Breastfeeding, Nutrition, WIC Funding & Operation, and WIC Outcomes. These sections house resources that were previously scattered around our site and sometimes difficult to find. They also include links to relevant external resources.

References
We have a newly organized bibliography section that will be expanded in the coming months. Our previously printed bibliography will be easily accessible and searchable. Articles will be categorized by topic area to help with your researching needs.

Personalized Individual and Agency Dashboards
We created an area in your profile (a "Dashboard") where you can easily print invoices and receipts, see past transactions, register for upcoming events, and manage your NWA e-publication subscriptions.

New Advocacy Central
We have tons of advocacy resources, and now we've put them into context relevant to individual campaigns. We've developed a Q&A page which addresses our most frequently asked questions about our advocacy efforts. These will give you background on the campaign and provide you with relevant resources.

Event Registration
We worked to make event registration a breeze! We distilled information down to the essentials, making the user process quick and easy. You can now access your receipts and invoices whenever you'd like.

FAQ
We wanted to provide quick answers to common questions. This applies to membership questions, but also basic questions about WIC for those who are unfamiliar with the program. We also have lots of students and new WIC staff who use our site, so we put together a WIC glossary to help define commonly used WIC jargon.

Responsive Mobile Website
The new site is "responsive" so you can receive an optimized version of the site if you're browsing from a smartphone or other web-enabled phone.
All of these new features were combined and wrapped together underneath a fresh new design consistent with a re-branding effort that has taken place throughout NWA (online and off). And we're not done yet! In the coming months, we're going to release our members-only community section, as well as several other enhancements to make the site even easier and more enjoyable to use.
Haven't gotten started yet? Review our 1-pager for creating a profile or accessing your existing profile, and check out our introductory webinar recording for a quick tour!
That's our brief overview to learn about (and hopefully use!) our new features. For others that would like a deeper insight, we've got a bit more to share about how we brought the new site to fruition.
The Process
Work on the new nwica.org started quite a while ago when we collected feedback from our members about what they liked and didn't like about the website at that time via surveys and submitted comments. We reviewed your feedback with our website consultants and made some initial priorities for the site's re-working.
In addition to your direct feedback, we reviewed other information including analytics (i.e., statistics) about the most popular sections of the existing website and the behavior of users on the site. As an additional input into the redesign effort we constructed "user personas." These personas, essentially sketches of our typical users, allowed us to stay focused on what things might be important to each of our different user groups, whether it be a local agency staff member, a Congressional staffer, a student, or a member of the news media.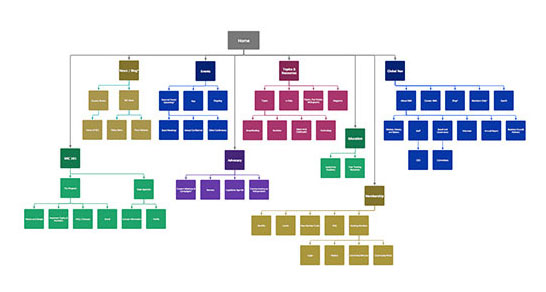 After assessing what we knew about our existing website, our users, and their needs, we moved into the initial design phases. The first step was to create the site's new information architecture, which is a fancy way of saying how all of the site's content will be organized. That was then formalized into a working prototype that we could use for early user testing which we conducted at our 2013 Annual Conference. Once we incorporated feedback from our test users, we moved ahead and let our developers break ground.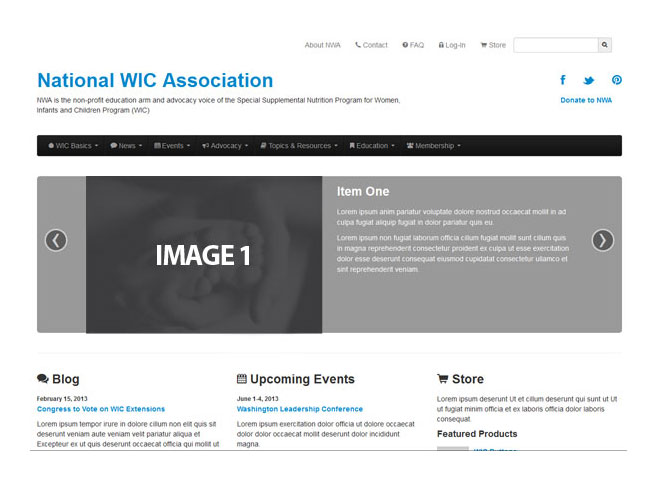 Over the course of six months, our developers rebuilt nwica.org from the ground up, stitching together a new one-stop shop for all of our users. Whereas we previously had a separate website (CMS; powered by Drupal) and a separate association management system (AMS; powered by Avectra), the new site is a single, unified and integrated system. We believe this will ultimately provide a better user experience to our users. The fully integrated system also means that members will be able to update their individual profiles, agency profiles (authorized users only), register for events, review past purchases and pay invoices, as well as update their NWA e-publication email preferences all from the new nwica.org.
Our website developers were Tarek Anandan and Francisco Serrano. Their contributions included the information architecture, support in user testing, and all of the development work that went into the new website. They also provided their expertise with working with nonprofit organizations to introduce us to new technologies that lowered our costs and will allow us to improve our services (e.g., Stripe API for credit card payments; improved hosting).
We hope you enjoy the new system!
Comments or suggestions? Please let us know! Log-in and make a comment on this post or email slee@nwica.org.