Why Your Gift Matters: Supporting WIC's Essential Workers
December 2, 2020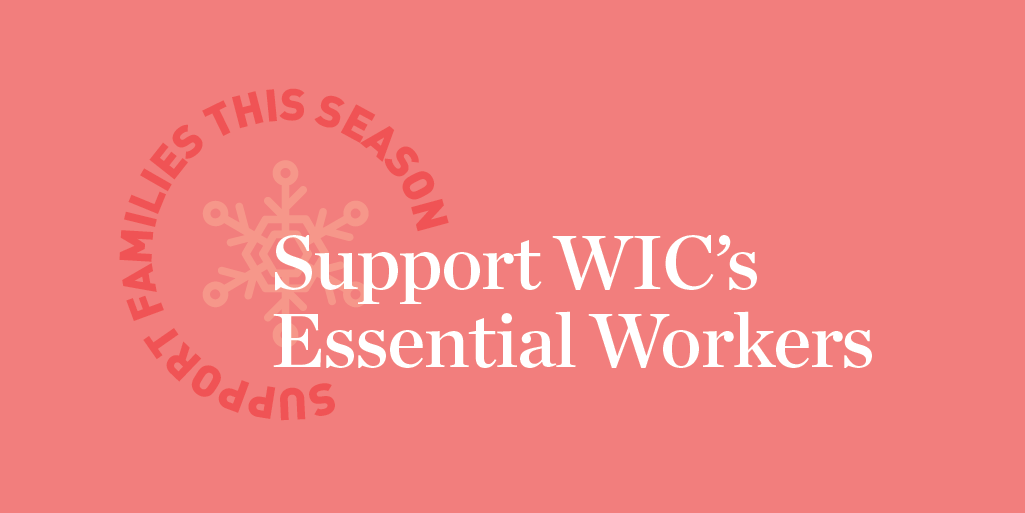 This is a giving season like no other in recent memory. COVID-19 has transformed our nation's way of life. So many families have been hard hit by both the virus and the economic impacts of the virus and the need for a helping hand is great.
But just as we've seen the struggles our country is enduring, we've also seen an extraordinary amount of resilience. We are so heartened by how the WIC community has risen to support WIC participants and one another.
That's why throughout the next month, we are going to highlight the extraordinary work of the WIC Community and the National WIC Association (NWA), from how we've responded to COVID, to the nutrition and breastfeeding support we've seen, to our advocacy efforts for a stronger future for WIC. This week's theme is: Support WIC's Essential Workers.
This work is made possible by people like you. We hope you'll consider donating today to ensure we can continue building a bright future for WIC families.
Support WIC's Essential Workers
In response to the pandemic, NWA spearheaded innovation, convened WIC stakeholders, and produced messaging guidance for state and local WIC agencies. The COVID Response Fund helped ensure that WIC agencies were equipped to provide WIC services during the pandemic.
I am extremely grateful for the work that NWA does on behalf of the WIC program, and that sentiment has been elevated during the COVID-19 pandemic response. Week after week, NWA tirelessly supports state and local agencies in navigating through the daily changes and challenges that each state and region is experiencing due to the pandemic. Through advocacy, education, and messaging tools, NWA has helped WIC staff across the nation ensure that families get the much-needed help and support.

Jeanne Gallegos, MS, Deputy Director, New Mexico WIC Program
Connectivity
One of the main things we heard from the WIC community was that their day to day work was changing so rapidly, they were incredibly eager to hear from one another about how their colleagues were adjusting and adapting. To meet this need, we created 12 COVID-19 Response Working Groups. Each group had a specific WIC-related focus, including breastfeeding support, communications & outreach, food package changes, MIS data information management, and online certification. These groups provided a platform for a variety of WIC stakeholders to share information and ideas. Working Group members contributed in numerous ways to NWA's COVID response effort including:
130+ retailers, tech processors, WIC staff, and other partners came together to discuss an online purchasing solution for WIC.
Presented resources in NWA webinars.
We turned our 2020 Nutrition Education & Breastfeeding Promotion Conference into a virtual event to keep the education and networking accessible. As a result, more than 3,000 people attended the conference — the highest attendance of any conference in NWA history!
Thank you, NWA and all our presenters for doing such fantastic jobs of bringing everyone together. I definitely learned some things that will become great topics of discussion and motivate me to further help our WIC families.

2020 Nutrition Education & Breastfeeding Promotion Conference attendee
Communication
At the beginning of the pandemic, there was a lot of confusion about how WIC would be administered. Rampant misinformation spread about clinic closings and EBT benefit cancellations. People needed to know that although WIC looked different than it did before this crisis, the program would remain operating. To address this, NWA created a WIC & COVID-19 Messaging Toolkit to help WIC agencies communicate the latest information with participants.
Hundreds of WIC staff members have utilized the toolkit, which was created with input from the Communications & Outreach COVID-19 Working Group. It includes content in both English and Spanish and covers more than 20 topics. The toolkit gives WIC agencies a way to provide current participants and eligible families with accurate, up-to-date information on social media, counteracting disinformation and myths about the program. Topics include the dangers of homemade infant formula, hospital visitor policies, remote WIC services, and more.
We very much appreciated the availability of the Communication Toolkit that we used effectively for our social media communication.

Samar McGregor, MPH RDN, Deputy Director, PHFE WIC
Innovation
NWA and Nava Public Benefit Corporation (Nava) researched the state of technology being used in WIC to support remote certifications today. Nava gathered the information in this report by thorough research into technologies currently being used by WIC State agencies to support remote certification, distribution, and validation of a survey to WIC directors and staff, and interviews with WIC State agencies and current technology vendors. The report from this project is forthcoming and will provide important information that will support state WIC programs to learn how their colleagues are utilizing remote certification tools across the country, provide a foundation for further research on the topic, and support WIC advocacy efforts that encourage more support for remote certification tools.
Resources
To support WIC agencies and staff, NWA created numerous resources in an effort to streamline COVID-19 information, practices, and outreach. These materials include:
I had a phone call from a new grandma, whose breastfeeding daughter was being tested for COVID. I was able to hop right on the NWA website and provide the most current information on breastfeeding with COVID and alleviate a family's fears.

WIC Coordinator, Reno County, Kansas
Support our work to ensure we can continue building a bright future for WIC families.