State Spotlight: New Mexico WIC Rolls Out Curbside Service
July 20, 2020
In response to the COVID-19 pandemic, WIC providers in New Mexico put their creativity to the test with the implementation of their new "curbside" clinic service. When stay-at-home orders were announced in New Mexico in March 2020, state WIC director Sarah Flores-Sievers had to quickly transition the way WIC provides nutrition and public health services to families.
The transition to curbside WIC operations was made possible by waivers that Congress granted to the U.S. Department of Agriculture (USDA) under the Families First Coronavirus Response Act, which the National WIC Association actively advocated for. The physical presence requirement to deliver some services – including certification of new families – in-person at the clinic was waived to protect WIC clinic staff, participants, and their families. Jeanne Gallegos, a WIC Regional Program Director in Albuquerque, noted the importance of flexibility in this critical moment: "USDA waivers were a godsend."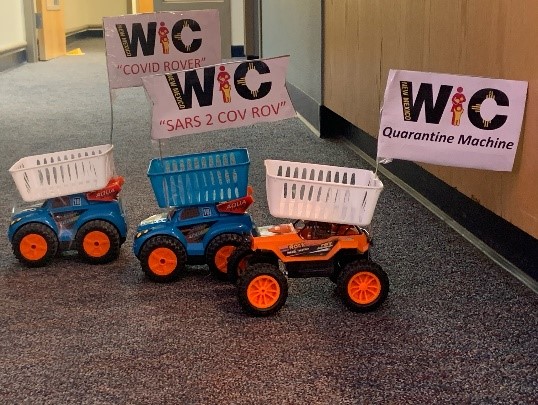 Once New Mexico WIC participants drive up to the clinic, they call the clinic to notify staff of their arrival. Participants are then greeted by WIC staff in personal protective equipment (PPE) who provide services such as loading benefits onto e-WIC cards (New Mexico adopted an electronic-benefit transfer/EBT, or e-WIC, transaction model in 2007). Each clinic has developed safe, innovative ways to best interact curbside with participants. Some clinics have families drop their EBT cards and identification on small remote control rovers which travel from the family's car to the staff person and back!
Not only do families receive WIC services at the curbside clinic, but they can also pick up meals for their children provided through the Summer Food Service Program and collect their Farmers Market Nutrition Program vouchers. So far, participants have reported that they love the comprehensive curbside service.
Jeanne Gallegos attributes WIC's ability to adapt in these times – including serving existing participants and increasing outreach to new families – to clinic staff. With the significant increase of families experiencing lost jobs and income due to the pandemic, expanding outreach to families newly eligible for WIC is critical. "Staff have been the true champions in this state. They have been phenomenal, and it warms my heart that they all wanted to be here to support our families," says Ms. Gallegos.
WIC staff have reached out to families, some of which have never received federal nutrition assistance. WIC staff reported several positive interactions with new families, including one case of a first-time mom who expressed her sense of security and preparedness for the future, knowing that her daughter now has WIC.
Families in New Mexico are extremely grateful for adaptations in WIC service during the COVID crisis. Whatever the future holds for WIC service models, Ms. Gallegos confirms that WIC staff are "all hands on deck," to ensure the safety of their families and children.
New Mexico state and local WIC providers appreciate New Mexico Governor Michelle Lujan Grisham for taking appropriate precautions and enforcing preventive guidance in response to COVID-19. Some of these preventive measures include required face coverings, physical distancing, and a limit on gatherings. "The Governor's measures enabled us to adequately and effectively plan our WIC operations," says New Mexico's WIC Director, Sarah Flores-Sievers
With COVID rates still rising and state reopening plans varying, waiver extensions are necessary for the continuation of safe WIC service delivery and the protection of WIC mothers and children as well as clinic staff. As this crisis is not abating soon, the National WIC Association is pressing Congress to extend WIC waiver authority to the USDA through September 2021. You can advocate for WIC families as well with NWA's Waiver Extension Op-Ed template.