Why Your Gift Matters: Supporting Healthy Families Through WIC
December 7, 2020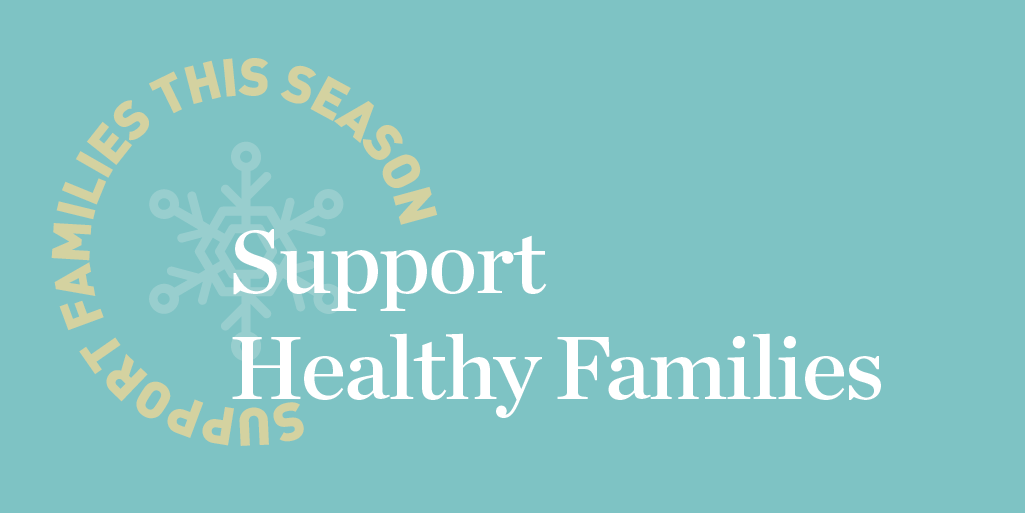 This is a giving season like no other in recent memory. COVID-19 has transformed our nation's way of life. So many families have been hard hit by both the virus and the economic impacts of the virus and the need for a helping hand is great.
But just as we've seen the struggles our country is enduring, we've also seen an extraordinary amount of resilience. We are so heartened by how the WIC community has risen to support WIC participants and one another.
That's why throughout the next month, we are going to highlight the extraordinary work of the WIC Community and the National WIC Association (NWA), from how we've responded to COVID, to the nutrition and breastfeeding support we've seen, to our advocacy efforts for a stronger future for WIC. This week's theme is: Support Healthy Families.
This work is made possible by people like you. We hope you'll consider donating today to ensure we can continue building a bright future for WIC families.
Support Healthy Families
The National WIC Association (NWA) supports healthy families by promoting the nutrition and breastfeeding work of the WIC community. These efforts include:
Providing a Nutrition Lens to Public Policy
The NWA Nutrition Team influences public policy by crafting evidence-based comments on nutrition-related proposed rules and developing position papers and factsheets to support NWA advocacy efforts.
The WIC Food Package: As mandated by the Healthy Hunger-Free Kids Act of 2010, the WIC food package must be reviewed at least every 10 years. The past two reviews were undertaken by a special committee of the National Academies of Sciences, Engineering, and Medicine (NASEM), formerly known as the Institute of Medicine (IOM). In its report published on January 5, 2017, NASEM released its most recent recommended revisions to the WIC food package. NWA's Nutrition Team, in collaboration with the Association's Nutrition Services Section (NSS), submitted written comments and provided in-person testimony to the US Department of Agriculture, Food and Nutrition Service (USDA-FNS) on the proposed changes.
2020-2025 Dietary Guidelines for Americans: NWA has submitted multiple comments to the Dietary Guidelines Advisory Committee (DGAC) of the US Department of Agriculture (USDA) and the Department of Health and Human Services (HHS) throughout 2020 on behalf of the Association. Further action by the Nutrition Team is anticipated when the Department issues its call for comments on the proposed guidelines.
Authoring and Updating Position Papers and Factsheets
Through thoroughly researched position papers and factsheets, the NWA Nutrition Team keeps the Association membership abreast of the often complex public policy processes and emerging issues within WIC. A recent example includes the publication of both the Maternal Mortality Task Force's position paper and report titled, The Role of WIC in Reducing Maternal Mortality. To produce high-quality resources that meet the needs of our membership, the Nutrition Team works closely with the NWA board, committees, and task forces to ensure the information provided in position papers and fact sheets is pertinent.
Creating the Annual NWA Calendar and Other Nutrition Education Tools
Each year, the NWA Nutrition Team works with the Calendar Committee to produce an educational calendar for WIC families. The calendar is designed to influence daily dietary decisions, promote positive behaviors, as well as extend and reinforce the health and nutrition education delivered in WIC clinics. Examples of other NWA nutrition education tools include the "Feeding Your Baby" magazine series that helps new and experienced moms give their babies a healthy start; as well as educational products like MyPlate kids serving plates and coloring books, etc. to further promote good health and nutrition practices.
Supporting Nutrition Research in WIC
The NWA Nutrition Team stays abreast of the latest research and evaluation on nutrition- and breastfeeding-related issues in WIC. Through NWA's e-publications such as Monday Morning Report and WIC Research to Practice, links to the latest research and opportunities to participate in WIC research activities are shared with NWA membership.
Liaising with NWA's Board, Committees, & Task Forces
NWA's Nutrition Team liaises with the Association's Board, committees, and task forces. These include but are not limited to the:
Nutrition Services Section of the NWA Board.
Breastfeeding Promotion Committee.
Calendar Committee.
Maternal Mortality Task Force.
Infant Mortality Task Force.
Recruitment and Retention of Registered Dietitians (RDs) in WIC Task Force.
Risk Identification and Selection Collaborative (RISC) – a collaboration with USDA's Food and Nutrition Service (FNS).
All of these groups work to support the nutrition and breastfeeding efforts of WIC staff nationwide with the ultimate goal of improving the health outcomes of WIC participants.
Participating in the Development of the NWA Nutrition Education & Breastfeeding Promotion Conference
NWA's Nutrition Education and Breastfeeding Promotion Conference is a biennial conference and is the organization's most popular gathering of WIC nutrition and breastfeeding professionals in the US. Attracting about 3,000 attendees from USDA, state, and local WIC agencies, as well as vendors, the conference's education sessions covered current and emerging nutrition and breastfeeding science, research, policy, and best practices that are relevant and useful to the WIC community.