Tonce Jackson, Health Equity Champion
August 27, 2020
I joined the PHFE WIC family thirteen years ago as the "Director of First Impressions," officially known as the Front Desk Clerk, while pursing my Bachelors in Nutritional Science. Upon completion of my nutrition degree, I received numerous growth opportunities. Starting with my promotion to Nutritionist, then the Dietetic Internship, next to Supervising Nutritionist, a lateral move to headquarters as the Nutrition Education Nutritionist and now as Health Equity Manager. In 2020, I successfully defended my dissertation entitled, "The Real Determinants of Health: Addressing Maternal Mortality and Morbidity through the Voices and Lived Experiences of Black Women Receiving WIC" and became Dr. Tonce Jackson. Whew!
In 2015, I co-founded CinnaMoms, a breastfeeding support program for Black families at the PHFE WIC program. In 2019, CinnaMoms expanded to a motherhood and lifestyle brand where our families re-imagine and re-define their vision for birth equity. I also had the pleasure of serving as Chair of the NWA Maternal Mortality in WIC Task Force, which provided an opportunity to identify WIC's role in addressing maternal mortality and morbidity. As Health Equity Manager, I have led our agency in a series of trainings, including equity, diversity, and inclusion, conversations on race, micro-aggressions, and implicit bias.
Now more than ever is it critical to use an equity lens in all facets of our evolving WIC business model. In June 2020, after the racial uprising and revolution, PHFE WIC activated a C.O.R.E. Team (Council on Racial and Equity Affairs) to address racial equity at our agency. This includes a look at our policies, training plan, hiring practices, leadership pipeline, and capacity building.
Thank you, NWA, for selecting me as a Health Equity Champion. I look forward to continuing on this journey towards health and racial equity at WIC.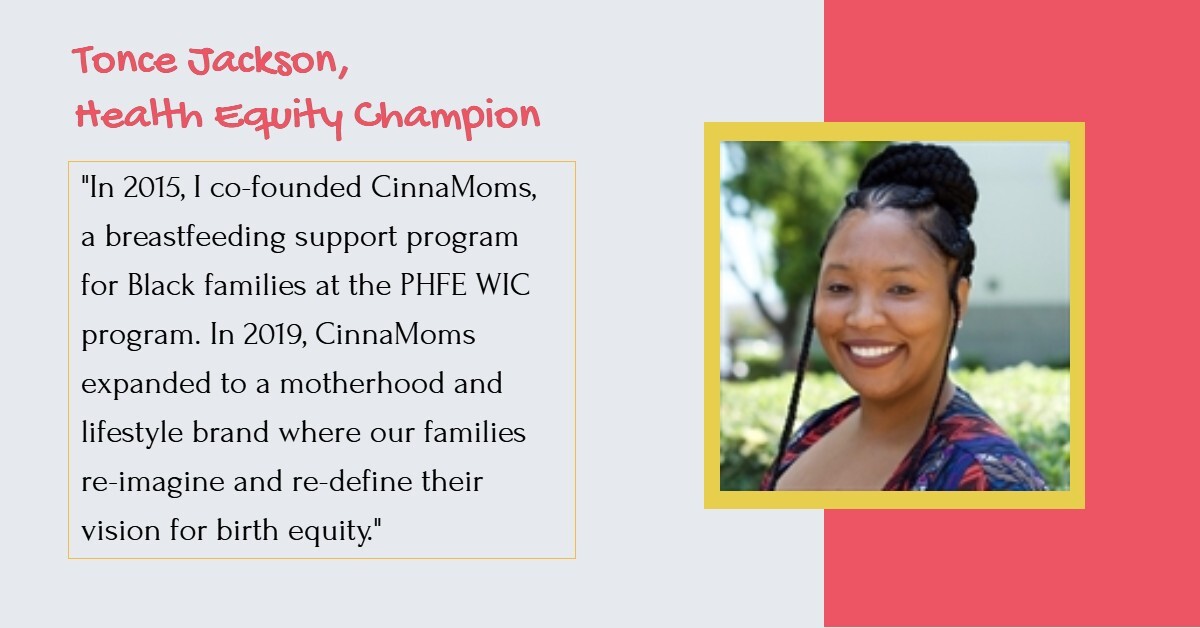 Social Media Handles: