CREW Awardee: Commonwealth of the Northern Mariana Islands (CNMI)
November 21, 2020
The National WIC Association (NWA) received a grant from the Robert Wood Johnson Foundation (RWJF) to support a three-year project called Catalyzing Recruitment Efforts in WIC: Disseminating Evidence-Based Resources to Enhance the WIC Participant Experience (CREW). Through this project, we seek to increase participation in WIC by recruiting eligible families and retaining current participants. This includes sharing knowledge, resources, and materials; investing in local agencies; including health equity framework; and rigorously evaluating tools and strategies. As caseloads in WIC continue to decline, we need to understand the causes and provide guidance to solve the issues so all families can fully engage with the program.
CNMI WIC Introduces 'WIC to Go' — an Alternative Shopping Option in a Time of Crisis
CNMI WIC introduces WIC to Go: An alternative shopping option in a time of crisis Overcoming challenges has become a routine response in the Commonwealth of the Northern Mariana Islands (CNMI) community. In 2015 and 2018, two super typhoons ravaged the region, crippling the local economy and infrastructure. Remnants of the devastation are still evident as the islands steadfastly work to rebuild in 2020. At the brink of recovery, in early March, the CNMI was devastated yet again by the COVID-19 pandemic. COVID-19 halted life and operations as mandates shut-down businesses, schools, most government agencies, and travel into the islands. The unprecedented virus created compounding challenges from major furloughs across all private and government agencies, to strict public movement and single room/space guidance. Exhibited uncertainty and fear were incontestable in every home in the CNMI.
Amidst the shut-down, the CNMI WIC program doors remained open, delivering nutrition education and breastfeeding support to participants during this time of crisis through remote services. In providing this alternate way of service, much learning and partnership ensued as participants were more engaged, openly sharing ideas and concerns. It was clear that families were frustrated and simultaneously fearful with being confined at home, their children not in school, stores not allowing children in, beaches/parks closed, not being able to support their families, and getting the virus.

With this at the forefront, the CNMI WIC program, with the opportunity made possible through the Catalyzing Retention Efforts in WIC (CREW) grant through the National WIC Association (NWA) by way of the Robert Wood Johnson Foundation (RWJF), kicked into high gear to meet participants where they were. As a recipient of this grant, the CNMI WIC program is responsible for creating and piloting creative practices that will impact the retention of WIC participants, increase WIC food redemptions, promote nutrition education and health equity in the CNMI community. The focus of the CNMI CREW project is to provide participants with a transformed shopping experience through interventions that include:
A Store Navigator whose goal was to promote healthy food options, facilitate in the identification of store best practices, assist participants with shopping needs, conduct surveys, provide nutrition tips/recipes, and technical assistance.
A marketing campaign showcasing WIC foods and highlighting the WIC brand.
Utilize data to inform and assist vendors in creating store specific interventions designed to increase redemptions.
Develop a Customer Service Playbook to enhance customer experience, increase customer satisfaction, and recognize the importance of self-care for sustainability.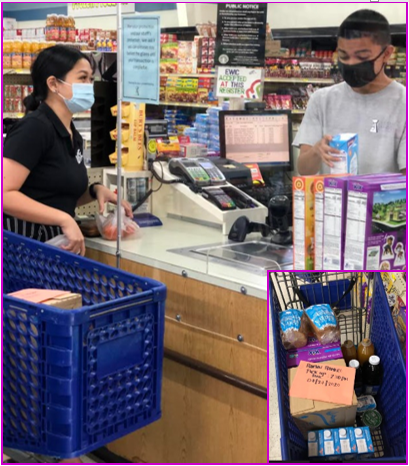 With current mandates and restrictions, the CNMI WIC program had to pivot as the Store Navigator intervention was not feasible given the circumstances. The question asked: "How do we meet the needs of our participants and community in this moment?"
Through collaborative efforts with vendors, our Arizona WIC partners, and the CREW project support team, WIC to Go was developed. The goal was to provide an alternative shopping option designed to promote a safe, efficient, and equitable shopping experience for WIC families.
After numerous setbacks, on August 1, a first-of-its-kind, the CNMI WIC program officially launched WIC to Go at Joeten Kagman Supermarket. Off to a slow start with a mere two (2) participants in the first month of launch, WIC to Go has gained speed with twenty-six (26) uses, including an addition of four (4) vendors launching within the same time frame. Though in its infancy, WIC hopes for increased active participation in the coming months when the remaining interventions are in full swing by early 2021. Another aspect being explored by the program is WIC is Food Security in participant homes. With both the health and economic challenges, WIC recognized the need to gauge and assess this new potential issue families may face by utilizing the USDA Food Security Survey. With the data, WIC intends to share findings with community partners to help create better outcomes for all families in the community. Thus far, the program has reached over 400 families and has set a goal to reach at least 1,000 families by December 2020.
As the CNMI continues to face adversity and challenging times ahead, the WIC program strives to uphold its vision of healthy mothers, happy children, empowered families, and a resilient community by adjusting and creatively thinking of ways to provide quality services and ensure that mothers, young children, and our community as a whole have access to healthy foods, breastfeeding support and are accurately informed on maternal and child recommendations during this public health emergency.
This work was funded and made possible by the Robert Wood Johnson Foundation in partnership with the National WIC Association. Views here do not necessarily reflect those of the Foundation.