White House Conference on Hunger, Nutrition, and Health Watch Party Re-Cap
September 30, 2022

On September 28th, 2022, the White House held its Conference on Hunger, Nutrition, and Health for the first time in more than 50 years! Advocates, community leaders, and legislators gathered in Washington D.C. and virtually with the goal of ending hunger and eliminating diet-related diseases in the United States. Since the WIC program was born out of the first White House Conference on Hunger, Nutrition, and Health in 1969, we knew that this would be a critical moment to center WIC in conversation on the future of health and nutrition in the United States. Read our full press release on the conference and the Biden Administration's National Strategy here!
NWA hosted our own virtual watch party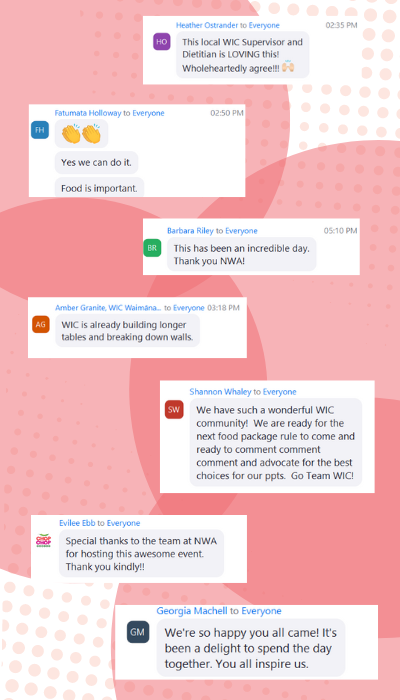 for the WIC community to come together in conversation and witness these historic moments together. Throughout the day, over 400 members of the WIC community attended our Zoom watch party hosted by NWA staff and offered their own insights on the role of WIC in health and nutrition, increasing access to WIC, and much more! The White House hosted panels covering topics such as:
Integrating nutrition and healthcare

Ensuring access to healthy foods for kids

Expanding partnerships for increasing access to locally grown foods

Using research to improve policies
View the recorded conference sessions here!
This conference was a crucial step in bringing the modernization of WIC to the forefront of improving health and nutrition for American kids and families. We know that when kids, moms, and families have access to healthy foods, they thrive. That's why we're asking Congress to
Expand WIC eligibility for kids to age 6 or the beginning of kindergarten

Expand postpartum eligibility to 2 years

And relax in-person requirements permanently to streamline certifications and increase access to WIC.
Learn more from NWA Senior Director of Public Policy, Brian Dittmeier:
Here's how you can help spread the word:
Click the link below to use our action alert to contact your representatives and let them know: It's time to #ModernizeWIC!

Share on social media: Use our social media toolkit to spread the word and encourage others to take action!