Why Your Gift Matters: Keeping WIC Families Safe During COVID-19
December 14, 2020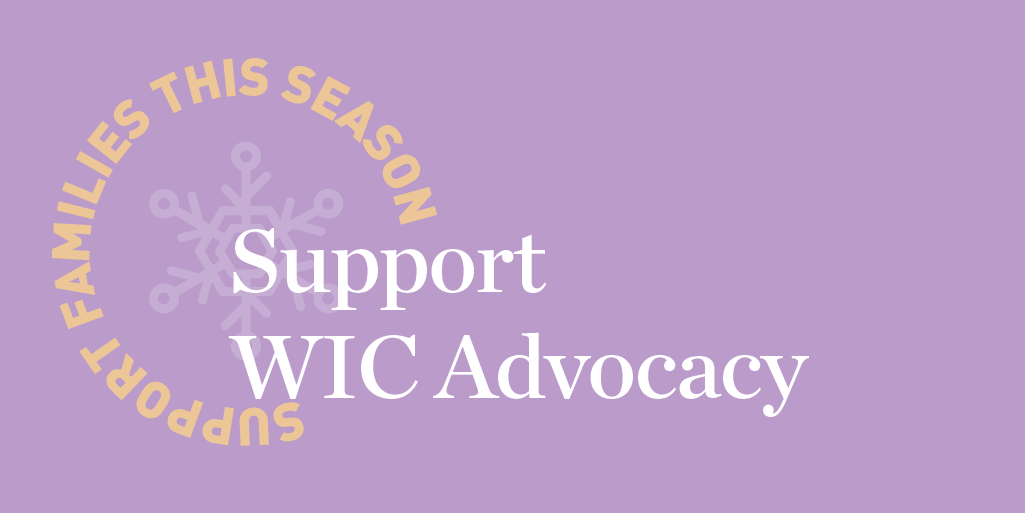 This is a giving season like no other in recent memory. COVID-19 has transformed our nation's way of life. Many families have been hard hit by both the virus and the economic impacts of the virus. The need for a helping hand is great. But just as we've seen the struggles our country is enduring, we've also seen an extraordinary resilience. We are so heartened by how the WIC community has risen to support WIC participants and one another.
Throughout December, we will highlight the extraordinary work of the WIC Community and the National WIC Association (NWA), from how we've responded to COVID, to the nutrition and breastfeeding support we've seen, to our advocacy efforts for a stronger future for WIC. This week's theme is Support WIC Advocacy.
This work is made possible by people like you. We hope you'll consider donating today to ensure we can continue building a bright future for WIC families.
WIC Advocacy: Keeping WIC Families Safe During COVID-19
Since the onset of the COVID-19 pandemic, the National WIC Association (NWA) has steadfastly fought for increased flexibility to keep WIC participants, clinic staff, and their families safe from exposure to the virus.
As initial cases were reported and public concern escalated in mid-March, NWA swiftly secured unprecedented changes to the program in the Families First Coronavirus Response Act through emergency waivers. With waiver authority, WIC providers in the majority of states implemented remote appointments and delayed in-person health screenings and testing. In states where e-WIC cards must be manually reloaded at clinics, curbside services were instituted to minimize contact between clinic staff and participants.
NWA continued to fight for these flexibilities, even as the U.S. Department of Agriculture (USDA) sought to phase states back to in-person services over the summer. USDA's short-term approach extended the waivers in month-long increments, loading state agencies with new paperwork requirements and causing confusion for local providers and participating families. In a time when a consistent and clear message was needed, WIC providers were left wondering if they would have to return to in-person clinic services, quickly planning for safety precautions like installing plexiglass, and fearful of staffing shortages. At a time when the Centers for Disease Control and Prevention (CDC) was confirming that contracting COVID-19 during pregnancy elevated health risks, NWA was the strong voice advocating for the well-being of the WIC workforce.
NWA worked with members of Congress to push back against USDA's decision to phase out waivers, coordinating letters from Reps. Alma Adams (D-NC), Josh Harder (D-CA), Jenniffer González-Colón (R-PR), as well as nearly every member of the Senate Agriculture Committee, including Chairman Pat Roberts (R-KS) and Ranking Member Debbie Stabenow (D-MI). After USDA extended the waivers through the summer, NWA launched a national campaign to extend the waivers for as long as needed, consistent with public health guidance. Over 60 national organizations and over 350 local service-provider agencies from all 50 states joined in calling on Congress to extend USDA's waiver authority for WIC. Simultaneously, NWA activated our members on the #WICWaiversWork campaign to educate and highlight USDA, members of Congress, and the general public of the importance of WIC waivers in keeping WIC families and staff safe during the pandemic. Shortly before the September 30 deadline, USDA extended waivers for the duration of the public health emergency.
NWA's advocacy – in Washington and through grassroots activism by our national membership – was vital in securing flexibilities for the duration of the national public health emergency. COVID-19 poses one of the greatest challenges to the United States in this century. NWA stood up and spoke out to protect the health and livelihood of WIC participants, the WIC workforce, and their families by ensuring ongoing nutrition support while minimizing exposure to the virus. In 2021, NWA will continue to stand up and speak out for the needs of WIC families, our members, and the WIC community.