Speaker Presentations
If you don't see a presentation, we are either awaiting permission or the presenter did not give permission.
Monday, May 23:
Tuesday, May 24:
About the Conference
---
NWA 2016 Annual Education and Training Conference & Exhibits will be held at the Duke Energy Convention Center in Cincinnati, OH, May 22 - May 25, 2016.
The theme of this year's conference is The Real Value of WIC: Reach Them, Teach Them, Keep Them.
This Conference will offer an excellent opportunity to acquire new skills and to network with an estimated 1,000 of your peers, colleagues and exhibitors who provide WIC related products and services for your participants. The conference will also offer an opportunity for attendees to hear from USDA officials and to dialogue on relevant updates and challenges that the program faces.
For the rest of the conference, you will have the opportunity to choose from 27 general and concurrent sessions that is sure to expand your professional skills and knowledgebase to equip you to face coming WIC challenges and to take advantage of current and future WIC opportunities.
Agenda
Accreditations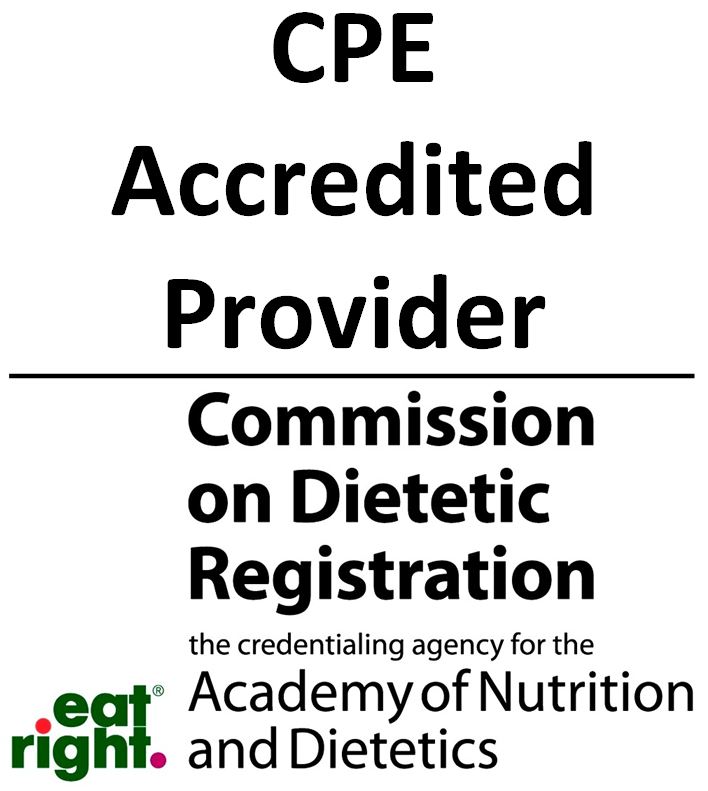 ​
Registration
Registration for the conference is now closed.
---
Cancellation & Refund Policy
It is NWA's policy to charge a processing fee for all cancelled registrations. To cancel your registration, a written request MUST be received by NWA via e-mail to nlucero@nwica.org or fax at 202-387-5281 no later than close of business on April 15, 2016.
Cancellations received before or on April 22, 2016 will be refunded, less a $75 processng fee. No refund will be granted for cancellations received after April 22, 2016. NWA regrets that refunds will not be granted for "No-shows."
Hotel & Transportation
NWA regrets to inform you that the hosting hotel room block is now closed. However, you can now make room reservations thru. May 5, 2016 at our alternate hotel, the Hilton Cincinnati Netherland Plaza hotel by clicking on the link below. The hotel is just a few steps away from the Millennium.
GUEST ROOM RESERVATION METHOD:
Custom Reservation Link:
https://resweb.passkey.com/go/WICMay16
The Hosting Hotel - SOLD OUT!!!
The Millennium Hotel Cincinnati
150 West Fifth Street
Cincinnati, OH 45202-2393
Main #: 513-352-2100
Res. #: 1-800-876-2100
---
Hotel Reservations
You can by calling 1-800-876-2100. Identify yourself as a National WIC Association 2016 Annual Conference attendee to receive the negotiated conference rate.
---
Hotel Room Rate
NWA has negotiated a special room rate of $135 per night plus a nightly room tax currently set at 17%. Note that this tax rate is subject to change without notice.
The cut-off date for these rates is Wednesday, April 27, 2016. After this date, reservations will be subject to the hotel's prevailing rates.
We encourage you to make your room reservations early to ensure that you will be in the hosting hotel at the guaranteed rate. Upon checking in, each guest will be asked to provide a valid government issued ID along with proof to which the room reservation was made.
---
Method of Room Guarantee
The hotel requires a major credit card to guarantee your room reservation, and first night's deposit (including taxes) payable at the time the reservation is being made. Room cancellations must be received at leaset 24 hours prior to your arrival date to avoid being charged the first night's room rate and applicable taxes.
---
Hotel Check-In/Out Policy
Hotel check-in is 4:00pm and check-out is 11:00am. The hotel can arrange to have your bags stored depending on room availability. Late check-out may be requested upon arrival.
---
Guest Parking
The hotel offers on-site parking for all registered guests. NWA has negotiated a special parking rate of $25.00 per night for our conference attendees.
---
Airport/Hotel Transportation
Cincinnati/Northern Kentucky International Airport (IATA: CVG, ICAO: KCVG) is a public international airport located in Hebron, Kentucky and serves the Greater Cincinnati metropolitan area. Visit Airport Cincinnati website.
Shuttle and taxi cab services are available at the airport.
Exhibitor Prospectus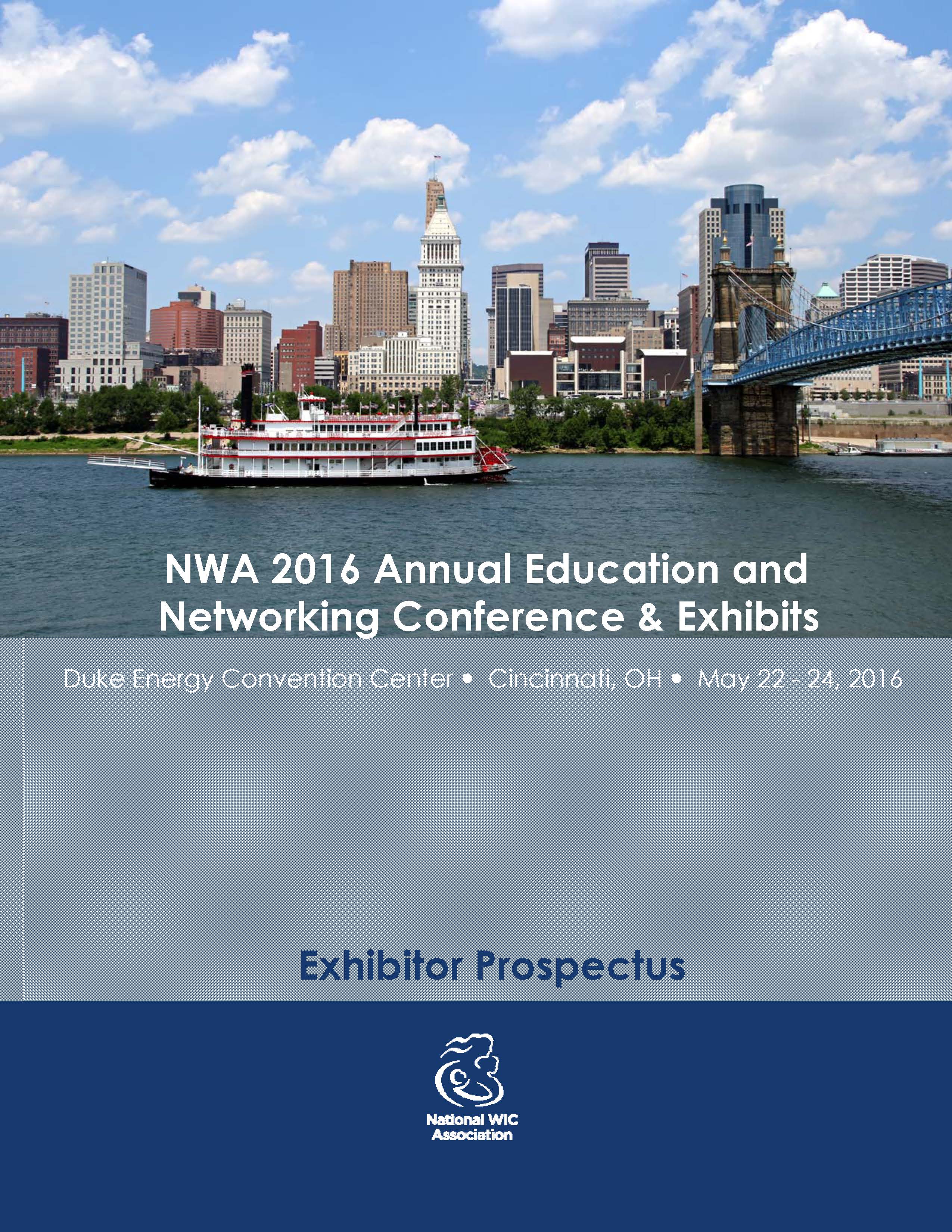 We invite you to participate as an exhibitor and/or sponsor at our 2016 Annual Education and Networking Conference and Exhibits.
---
Why Exhibit?
If you are seeking to introduce your products and services or an alternative promotional strategy to a new or existing audience, this conference offers several affordable options to meet your marketing needs.
By exhibiting and/or sponsoring at this conference, you will:
Create new customer and client relationships with WIC decision makers from across the nation;
Strengthen and build upon existing customer and client relationships;
Increase visibility for your company/organization in a targeted market;
Promote and market your products and services;
Reach prime target market segments for your products and services; and
Demonstrate your commitment to promoting quality public health nutrition for women, infants and children.
---
Exhibit Dates/Hours:
Saturday, May 21, 2016
4:00 pm - 6:00 pm ------ Registration Desk Open
Sunday, May 22, 2016
8:00 am - 4:00 pm --- Exhibitor Move-in and Set-up
4:00 pm - 7:00 pm --- Exhibit Show Opens
Monday, May 23, 2016
7:30 am - 8:30 am --- Breakfast / Networking & Exhibits
10:30 am - 11:00 am --- AM Break / Networking & Exhibits
12:00 pm - 1:30 pm ----- Lunch on your own
3:00 pm - 3:30 pm --- PM Break / Networking & Exhibits
Tuesday, May 24, 2016
7:30 am - 9:00 am --- Breakfast / Networking & Exhibbits
10:30 am - 11:00 am --- AM Break / Networking & Exhibits
12:00 pm - 5:00 pm --- Exhibitor Teardown & Move Out

---
Booths
Exhibit Booth Packages:
Platinum Level - $8,000
Gold Level - $6,000
Silver Level - $4,500
Bronze Level - $3,500
Standard Commercial/For-Profit - $2,500
Standard Non-Profit - $1,250
Platinum, Gold, Silver & Bronze Sponsors have first choice to all available exhibitor spaces.
For questions or to exhibit at this conference, please contact Dale Greenberg, the Association's Conference Manager, at 410-491-2654 or at dale.greenberg@conferencedirect.com