About
The National WIC Association Annual Conference Goes Virtual!
The role of technology in WIC has been a growing area of program focus for years. Innovations like smartphone apps, online educational and administrative platforms, and electronic benefits have enabled many WIC agencies to adapt to a quickly changing world. New technology can improve the WIC participant experience, increase program participation, and support more efficient program management. And it's particularly important during the COVID-19 pandemic.
To facilitate the sharing of best practices, lessons learned, research, and new ideas, the National WIC Association is offering a virtual conference June 23-25, 2020, on Adapting to Change: Supporting the WIC Community.
This virtual conference will include pre-recorded and live presentations in the form of webinars. Attendees will be able to access various sessions, expand their professional skills, and increase their knowledgebase – all from the comfort of their own homes!
The Virtual Conference will be a great opportunity for the WIC community to acquire new skills and network with peers. Featured voices will include the WIC agencies from across the nation, WIC researchers, WIC community members, and other partners who have insights to share. Exhibitors will also discuss WIC-related products and services for participants.
The conference will formally begin at 1:00 pm ET on Tuesday, June 23 with the Section meetings and will end at 5:00 pm ET on Thursday, June 25.
For questions, please contact the NWA National Office at 202-232-5492. We'll be happy to assist.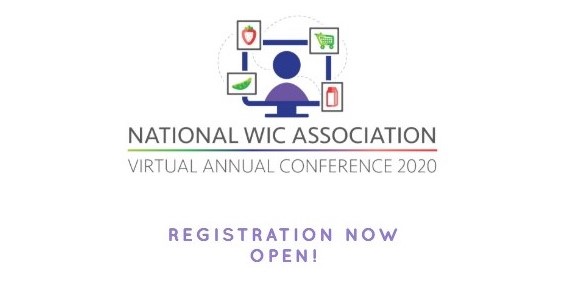 Fees and Registrations
General Registration Fees:
| | |
| --- | --- |
| Member | $185.00 |
| Non-Member | $285.00 |
| Student | $100.00 |
| Speakers | $100.00 |
Group Rates Per Person*:
| Group Member Increments | Member Rates | Non-Member Rates |
| --- | --- | --- |
| 10-20 Group Members | $165.00 | $265 |
| 21-40 Group Members | $155.00 | $255 |
| 41+ Group Members | $145.00 | $245 |
*In order to receive the Group Rate, please reach out to registration@nwica.org with your Group registration request.
Registration will close on June 22nd at 12:00 pm ET.
All payments are due by 5:00 pm ET on Monday, June 22. Payments must be received to gain access to and participate in Conference activities and sessions.
---
Cancellation & Refund Policy
To cancel your registration, a written request MUST be received by NWA via email to registration@nwica.org or fax to (202) 387-5281 no later than the close of business on May 31, 2020.
Cancellations received before or on May 31, 2020 will receive a 50% refund. No refunds will be granted on or after 12:00 AM PST on June 1, 2020. NWA regrets that refunds will not be granted for no-shows.
---
Online Registration
Online registrations are processed via our web-based system. Each registrant must have or create a profile (account) in order to register online. To create a profile, please go to https://www.nwica.org/auth/register.
Registration will close on June 22nd at 12:00 pm ET.
Registrants using a Purchase Order (PO) or check, must select the "Bill Me Later" option from the online registration system when registering. Credit card payments will be processed via our secured Stripe site. The system will automatically email a registration confirmation to the email provided. If you do not receive a confirmation email, please contact the Registration Department at (202) 232-5492 or Registration@nwica.org.
You can also register by submitting your completed registration form:
Please note that Registrants who have paid with Purchase Orders will not be allowed access to the Virtual Conference Platform until the purchase order is received by the Registration Manager, with a copy of the registration invoice.
NWA's federal tax ID is 8399-0160210-001
---
All Payment Methods
We must receive your credit card payment, check payment in full, or completed PO with invoice reference by Monday, June 22, 2020. If we have not received payment in full by the above date, you will not be able to access the NWA 2020 Virtual Conference platform.
All refund requests must be submitted in writing, to Registration@nwica.org. All refunds will be remitted by the same method of payment used to register. No refunds will be given beginning 12:00 AM PST on June 1, 2020.
For questions regarding payment methods, please contact the Registration Manager at (202) 232-5492 or Registration@nwica.org for more information.
---
Accessing NWICA.org
You may print invoices, receipts, and your event confirmation and view other personalized NWA information and activities by logging into your My NWICA account. To log in, visit www.nwica.org and select the "Purchases" link located right above your name on the dashboard. There you will be able to view/print copies of your invoices and receipts.
---
Questions?
Contact the Registration Department with any questions at (202) 232-5492 or Registration@nwica.org
Expositions
Why Exhibit
If you are seeking to introduce your products and services or an alternative promotional strategy to a new or existing audience, this conference offers several affordable options to meet your marketing needs.
By exhibiting and/or sponsoring at this conference, you will:
Create new customer and client relationships with WIC decision makers from across the nation;

Strengthen and build upon existing customer and client relationships;

Increase visibility for your company/organization in a targeted market;

Promote and market your products and services;

Reach prime target market segments for your products and services; and

Demonstrate your commitment to promoting quality public health nutrition for women, infants and children.
---
Exhibitor Dates and Hours
Wednesday, June 24, 2020
2:00 pm - 6:00 pm ET ----- Exhibit Hall Open
Thursday, June 25, 2020
9:00 am - 12:00 pm ET --- Exhibit Hall Open
---
All Virtual Conference Exhibitors Receive
The Virtual exhibit hall booth includes areas for resources, links, videos, images, a 1:1 chat feature, and more.

One full Conference pass and one exhibit hall-only pass for company personnel.

Organization listing and description will be showcased on the NWA Virtual Conference website exhibitor page.

One-time use of NWA conference attendee mailing list pre- or post-conference
---
2020 Exhibitor Fees & Deadlines
Organization

Exhibitor Fees

Add-on Full-Conference
Registration

Add-on Exhibit Hall
Registration

Regular Rate

$500

$200 ea.

$100 ea.

BCP Rate

$300

$200 ea.

$100 ea.
*Payment is due no later than June 15.
Confirmed Exhibitors
Confirmed Exhibitors (as of June 18, 2020)
Earth's Best Organic (Business Council Partner)
General Mills (Business Council Partner)
Kellogg's (Business Council Partner)
Post Consumer Brands (Business Council Partner)
Asthma and Allergy Foundation of America (AAFA)
Brush Art Corporation
CDC's Learn the Signs Act Early Program
Coffective
Creative Bus Sales
Crystal Farms Cheese
Dan Boozer Adjustment/DBA Investigations
Dole Packaged Foods
Evenflo Feeding
Fresh Baby/Nutrition Education Products
FTS Solutions Inc.
Gerber Products Company
Happy Baby Organics
Hohm Press & Kalindi Publishers
Hygeia Breast Pumps
The J.M. Smucker Company/Jif Peanut Butter
Juicy Juice
LA Publishing, LLC
Lansinoh
Magnus
MyPlate Materials
National Peanut Board
Nursing Naturals Nursing Bras
Nutrition Matters
NWA Publications
Ocean Spray
One Call Now
Pacific Ultra Soy
Pepperidge Farm
Perspective Enterprises
Pic Select Fresh Baby Food
Reflo Smart Cup
Rumble Tuff
Scholastic Literacy Partnerships
Star Medical Specialties
Team Dynamics, LLC
Teletask, Inc.
Visualz (formerly Learning ZoneXpress)
Vitamin Angels
WaveGuide Studios
wichealth
Xpertcare, Inc.
Frequently Asked Questions
Know Before You Go Webinar Recording
1. What is a virtual conference?
A virtual conference is hosted entirely over the Internet. This virtual conference will include pre-recorded and live presentations in the form of webinars. Attendees participate through a Conference Platform designed specifically for the virtual conference. The Platform is where you will watch conference presentations and participate with questions and comments in real-time. Attendees will be able to access various sessions, expand their professional skills, and increase their knowledgebase – all from the comfort of their own homes whenever they want. Think of it as attending a standard NWA webinar but with the ability to engage with anyone else that is attending a conference either physically or online. We are bringing two worlds together for a shared unique experience!
2. Who should attend?
The conference is open to a wide range of Participants that include WIC State and Local agencies from across the nation, WIC researchers, WIC community members, USDA, non-governmental organizations, and other WIC partners.
3. What are the technical requirements needed to participate?
To participate, all you need is an internet connection, and a viewing device, such as a laptop, desktop computer, tablet, smartphone, or smart television. For the best viewing experience, we recommend that you join the conference using a supported internet browser, which includes Chrome, Firefox, Internet Explorer, Google, and Safari.
4. What happens once I register?
When a virtual attendee registration is complete (paid for) you will receive an email confirming your payment. NWA is working diligently to prepare for this unique experience and will send you the necessary instructions on Thursday, June 11.
Note - those who do not register will NOT be cleared to use the virtual platform (the company that provides the platform will cross-check registrations with our list). If you don't register, you cannot access the platform. Make sure that the email address associated with your registration is accurate and up to date so that there is no delay in receiving our communications or logging into the virtual platform.
5. Can I visit the conference without paying?
Unfortunately, no. We have to use the same registration system as always, and that list will be given to the platform administrators. Only those who are paid registrants will have password-protected access to the platform. You may NOT visit the exhibit hall, upload a video, view videos, upload or view posters, or anything else within the virtual platform without a registration log-in.
6. Can I share my virtual conference login information with other members of my team?
For every paid registration to attend virtually, only one device (computer, laptop, tablet, phone) will be allowed to enter the virtual conference. The Continuing Education Units/Credits earned, the questions asked, and the polling conducted within that single login session are all tied to the account of the individual that purchased the virtual event.
7. Can I access and view recordings of any sessions from the conference?
In one word, YES! Similar to if you were attending the conference on-site, you will be given the opportunity to select which sessions you'd like to attend virtually. It is up to you to decide which sessions interest you in a given time block and to attend those sessions as desired. You may attend as many or as few sessions as you want. All conference sessions will be recorded and will be available for viewing 20 minutes after the session ends. The Conference site will remain open and available until July 31, so you can view all Virtual Conference sessions at your convenience and continue networking with your peers, partners, and exhibitors.
8. If I want to watch 2 sessions that are streaming simultaneously, can I go back later and view one of them?
All conference sessions will be recorded and will be available for viewing 20 minutes after the session end. The Conference site will remain open and available until Friday, July 31, so you can view all Virtual Conference sessions at your convenience.
9. Am I going to have to watch sessions at 03:00 (in the morning) my time?

No! The conference will be asynchronous, as we have members/attendees all across the country and there is no time zone that accommodates everyone for a live session. The platform will be open 24 hours a day from Thursday, June 11 to July 31 and you can log in, view content, and make comments at any time during that time. You can access at any time during that week, no matter what time zone you are in.
According to the Professional Convention Manager Association (PCMA)…the premier authority on virtual meetings, have recommended virtual conferences be held in the time zone where the organization is headquartered.
10. What time does the conference start?
9:00 AM (New York Time - ET). Convert to your local time here.
11. Are you thinking of organizing a group viewing party?
Joining the virtual conference is more fun with friends…consider bringing your colleagues together to view the conference in one place. Here are some tips for organizing a viewing party:
Make sure everyone in the group is registered before the conference.

Look for a meeting place that can accommodate the group while observing social distancing guidelines.

Post a photo to your favorite Social Media platform of your group using the hashtag #NWA2020Annual - we will post your photos on the Virtual Platform and on our social media.
12. What professional credit is available for the Annual Virtual Conference?
Continuing Education Units/Credits will be offered. Specific amounts will be provided closer to the date of the conference.
13. Will I get a certificate of attendance?

Yes, certificates will be available to all registered attendees post-conference after filling out the overall survey.
14. How will I be able to connect with other virtual attendees?

The conference platform will be available for you to interact with other attendees, sponsors, and exhibitors via various features – Main Event Feed for posting updates, 1:1 or Group Chat features, during topic focus breakout sessions, and more!
15. Will I be able to ask the speakers questions?

Yes, there will be a chat feature that will allow you to send questions to a moderator as well you will be able to communicate with the speaker directly after their session presentation on the conference platform from June 11 – July 31.
16. What about poster sessions?
Poster sessions will also be delivered in a virtual format. In addition to viewing the posters, attendees will have the opportunity to hear first-hand presentations by the authors during the Exhibit Hall/Poster portion of the Conference.

17. Will there be an exhibit hall?

Yes! The exhibit hall is actually an impressive and interactive function of the platform we are using! Exhibitors in the virtual hall will provide a robust experience for attendees. You'll be able to view videos and documents at their virtual booths. You can visit each booth, ask questions using the chat feature, and have 1:1 or group meetings using the platform.
How Virtual Conferences Work
What is a virtual conference?
A virtual conference is an event hosted entirely over the internet, allowing remote attendees to access live and pre-recorded sessions and events from their computers. Attendees participate through a website designed specifically for a virtual conference experience. This website is where participants will watch sessions streamed live and engage in sessions by asking questions and commenting in real time.
In addition to the live events, the Virtual Conference includes discussion forums, an Exhibit Hall, networking opportunities, a conference resource center, the ability to search for and chat with other conference attendees, and other features specifically designed to give virtual attendees the same opportunity to learn and engage with the presenters.
You're bound to love the benefits of attending a virtual conference!
Convenient. Listen to sessions whenever and wherever, as often as you want! Even get your team together to watch a session or two (note: only registered attendees have access to all of the other meeting tools).
Comprehensive. Get relevant, timely information and techniques. The short, 1-hour sessions will easily fit in your schedule!
Effortless. Sit back, listen to the presentations, participate in live Q&As and discussion threads, connect with other meeting attendees, and earn CEs.
Plus, you'll have access to all of this without the hassle and expense of travel. All you need is a device with Internet access.

This online conference includes:
Live presentations. Each day of the conference, a new live session will take place. Unlike in-person conferences with concurrent sessions, you can "attend" all of them! All live presentations will be recorded, so don't stress if you miss one!
Live Q&A during live presentations. At the end of each presentation, you can interact directly with presenters during the live Q&A.
Recorded lectures —available on demand while the conference is in session. Unlike in-person conferences with concurrent sessions, you can "attend" all the lectures!
Discussion thread related to each session. Post your comments and questions, and get reactions from other conference participants and presenters.
Handouts and other resources. Download and print or save handouts from all the sessions, as well as related resource documents.
Networking opportunities. Post a professional profile and find others with similar professional interests and specialties.
Justification Letter for Employers
Looking to convince your boss to let you attend the Virtual Annual Conference? Use this customizable letter to show the professional benefits of the conference.
Letter of Support from USDA-FNS
Sarah Widor, the Director of Supplemental Food Programs Division, sent a letter to all state agency WIC directors supporting the 2020 Virtual Annual Conference. This letter confirmed that WIC Program funds may be used to fund travel expenses and registration fees for this conference.
Privacy Policies
Meeting Privacy Policy: The 2020 Annual Virtual Conference provides attendee lists to our exhibitors and sponsors as a benefit of their support. The following information is provided to them for a one-time usage in a spreadsheet format: name, title, company, and mailing address. Email and phone numbers are never shared.
NWA Privacy Policy: As a 2020 Annual Virtual Conference attendee, you have been asked to provide your name and other contact information so that we can send you updates on this meeting. NWA may also send you emails and/or mailings in the future to share information regarding NWA membership or upcoming NWA events