About the Conference
---
The NWA Biennial Nutrition Education and Breastfeeding Conference will be held at the Hyatt Regency Orlando in Orlando, FL from September 9-11, 2020.
---
This conference is the most popular gathering of the WIC nutrition and breastfeeding professionals in the US, attracting more than 1,200 attendees from USDA, state and local WIC agencies, and vendors who provide services to the WIC community.
Education sessions will cover current and emerging nutrition and breastfeeding science, research, policy and best practices. Poster Sessions and special forums will offer additional learning and networking opportunities.
More than 40 exhibitors will be on hand to provide the latest on WIC-related products, technology and services.
Registration will be on September 8th from 4:00 – 6:00 p.m. The conference will begin at 9:00 a.m. on September 9th and end at noon on the 11th.
Bookmark our website and stay tuned for a future announcements about joining the conference planning committee, submitting an abstract to present an oral or poster presentation, and registering to attend the conference.
We look forward to seeing you in Orlando!
For questions, please contact the NWA National Office at 202-232-5492. We'll be happy to assist.
Registration for this conference will open in Spring 2020.
Registration Fees
EARLY REGISTRATION FEES
Fees between opening of registration (Spring 2020) and July 26, 2020
Early Member Rate: $385
Early Non-member Rate: $485
REGULAR REGISTRATION FEES
Fees after July 26, 2020
Regular Member Rate: $410
Regular Non-member Rate: $535
SINGLE DAY REGISTRATION FEES
Member Rate: $200
Non-member Rate: $275

All payments are due before or on the first day of the Conference. Payments must be received to gain access to and participate in Conference activities and sessions. No PO will be accepted on-site.
Registration for this conference will add your contact information to our conference attendee list available to all conference attendees, including exhibitors.
---
Cancellation & Refund Policy
It is the policy of NWA's to access a processing fee for all cancelled registrations. To cancel your registration, a written request MUST be received by NWA via e-mail to registration@nwica.org or fax to 1-202-387-5281 no later than close of business on July 31, 2020.
Cancellations received before or on July 31, 2020 will be refunded, less a $75 processng fee. No refund will be granted for cancellations received after July 31, 2020. NWA regrets that refunds will not be granted for "No-shows."
Submission Deadline Extended: Call for Abstracts
Call for Abstracts for NWA's 2020 Nutrition Education & Breastfeeding Promotion Conference & Exhibits
The National WIC Association invites members and partners to submit presentation and poster proposals for the 2020 Nutrition Education & Breastfeeding Promotion Conference & Exhibits in Orlando, Florida September 9-11, 2020.
To submit an abstract, click on this link. You will be asked to set-up a profile. After setting up your profile, you will then be given a 'To-Do' list – to submit your abstract, click on 'Submit a Paper' and follow the directions. For more information on how to submit an abstract see this guide.
In the true spirit of this conference, below are the suggested educational tracks for oral and poster submissions:
Breastfeeding (General)
Breastfeeding Promotion
Addressing Allergens as it relates to the WIC Food Package
Effects of Substance Use as it relates to Breastfeeding
Effects of Natural Disasters and access to food
Elevating Equitable Infant Feeding in the WIC Practice
Engagement/Collaboration of non-traditional Partners in the Promotion of WIC Nutrition and Breastfeeding
Health Disparities in Breastfeeding
Increasing Breastfeeding Duration
Innovations in Nutrition Education
Making the WIC Food Package more culturally inclusive
Nutrition (General)
Research, Data, & Evaluation
Workplace Issues & Breastfeeding
Workforce and Leadership Development
The conference tracks may align with your content but is not required. All topics within a track's purview are welcome. If your project does not fall within one of these topic areas, don't worry -- please submit an abstract anyway!
Abstracts Submission Deadline Extended to Sunday, March 8, 2020 and will be reviewed by the Nutrition Services Section, Breastfeeding Committee, and the Conference Planning Committee.
The Nutrition and Breastfeeding Conference is an excellent opportunity to expand your professional skills and knowledgebase in current and emerging nutrition and breastfeeding science, research, policy and best practices.
On behalf of the 2020 Conference Planning Committee, we look forward to receiving your abstract submission. Thank you in advance for your commitment to the excellence of next year's meeting.
Proposal Guidelines
Authors will be prompted to provide the following information into the submission platform.
Sections:
Suggested topical track and presentation title
Abstract (The recommended proposal length is 300 words)
Shortened Abstract for Marketing Use in Program Book (The recommended proposal length is 150 words)
Presenter information: name, institution, city, state, email address, bio
Co-Author(s) Information: name/s, institution/s, email address/es, bio
A maximum of four presenters may be listed on each proposal. The submitting author will receive an email message confirming the receipt of the abstract proposal submission and are responsible for keeping co-authors up to date on the status of the submission. By submitting an abstract to be considered for an oral or poster presentation, you acknowledge that all presenting authors are responsible for their own registration, travel, and hotel costs.
Concurrent sessions are 60 minutes long.
Poster Presentations will be during Breakfasts, Breaks, and Networking Opportunities.
Contact Information
If you have any questions regarding this process or the conference in general, please contact Chandra M. Champion at cchampion@nwica.org or (202) 265-7531.
Hotel and Transportation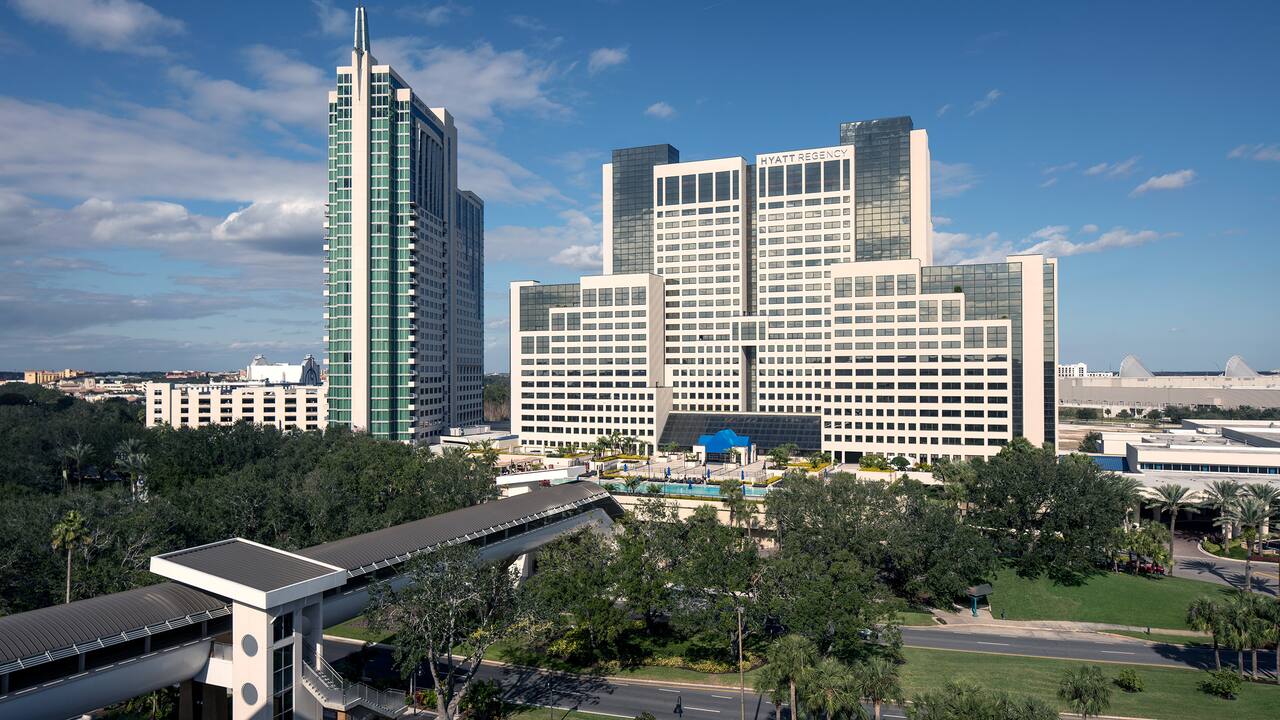 The Nutrition Education and Breastfeeding Conference will be held at the Hyatt Regency Orlando. Situated near all major theme parks, steps from Pointe Orlando, and a short trolley ride from ICON Park—home to restaurants, funky bars, and more. You'll also enjoy Chef Alain's homemade treats, and the 6,500-square-foot fitness center and award-winning instructors make it easy to get a workout in.
Hyatt Regency Orlando
9801 International Drive,
Orlando, Florida 32819
Main #: (402) 593-5048

Conference Hotel Room Rate
NWA has negotiated a special room rate of $122.00 plus tax of 13.625% per night. Note, tax rate subject to change without notice.
Reservations for the Hyatt Regency Orlando are now open. Reservations can be made until 5:00pm local time on Tuesday, August 18, 2020 or until the block is sold out – whichever comes first. After this date, reservations will be subject to the hotel's prevailing rates. Room block rates are for the dates of September 7 - 12. Make your room reservations today before rooms run out!
We encourage you to make your room reservations early to ensure that you will be in the hotel at the guaranteed room rate. Upon checking in, each guest will be asked to provide a valid government issued ID along with proof to which the room reservation was made.
Method of Room Guarantee
The hotel requires a major credit card to guarantee your room reservation, and first night's deposit (including taxes) payable at the time the reservation is being made. Room cancellations must be received at least 24 hours prior to your arrival date to avoid being charged the first night's room rate and applicable taxes. Please note that when you book through the group block, the resort fee of $30 per day will be waived. The fee cover serveral amenities which include premium inte
rnet access in your guestroom; 24-hour access to the fitness center and classes; 25% discount on spa and salon services; 25% discount on cabana rentals (based on availability); recreational activities at both Grotto and Terrace pools, two I-Ride Trolley tickets to the International Drive area; Kids 12 & under eat free at select restaurants with adult purchase (restrictions apply), and 2 bottled waters per day.
Conference Hotel Check-In/Out Policy
Hotel check-in is 3:00pm and check-out is 11:00am.
Hotel Parking
The hotel offers valet parking and self-parking. If you choose to use valet parking, fees are $40 USD per night. Self-parking is $27 daily.
Airport/Hotel Transportation
The Hyatt Regency Orlando is 15 minutes away from Orlando International Airport.
Shuttle and taxi cab services are available at the airport. The current estimated taxi/cab fare is $40 (one way). Please note that the hotel does not provide shuttle service.
Purchase Carbon Offsets
Traveling to conferences and meetings takes a lot of time, energy and capital. It also takes a toll on the environment. A good way to help balance your travel carbon footprint is to purchase "carbon offsets."
Carbon offsets include actions taken to compensate for carbon emitting human energy use from travel by car, boat, train, or plane. The goal is to "offset" the environmental impact by supporting actions that help reduce carbon emissions.
To search for certified standards groups from whom you can purchase carbon offsets, visit The Gold Standard or Green-E. To calculate your carbon footprint and to learn more about carbon emissions, please visit the EPA's Carbon Footprint Calculator website.
To learn more about how to purchase carbon offsets, you can read this article.
Scholarship Opportunity
National WIC Association's Member Benefit Fund Committee is offering scholarships to NWA's 2020 Nutrition Education & Breastfeeding Promotion Conference and Exhibits for NWA members who are WIC agency staff. Scholarships will cover registration, travel, and hotel costs for recipients. The deadline for applications is Monday, May 11, 2020 by midnight PST. Apply by completing this online form today.

Please note: In order for applications to be complete, the applicant's supervisor will need to confirm their support. The supervisor's contact information will be collected in the application and NWA will reach out to them to confirm their support. For this reason, it is important not to apply at the last minute.
Questions? Please email egilcher@nwica.org or call Emily Gilcher, NWA's Education and Membership Engagement Manager, at 202-719-2606.
Privacy Policies
Meeting Privacy Policy: The 2020 Nutrition Education & Breastfeeding Promotion Conference and Exhibits provides attendee lists to our exhibitors and sponsors as a benefit of their support. The following information is provided to them for a one-time usage in a spreadsheet format: name, title, company, and mailing address. Email and phone numbers are never shared.
NWA Privacy Policy: As a 2020 Nutrition Education & Breastfeeding Promotion Conference and Exhibits attendee, you have been asked to provide your name and other contact information so that we can send you updates on this meeting. NWA may also send you emails and/or mailings in the future to share information regarding NWA membership or upcoming NWA events