NWA 2022 in Review
December 23, 2022

From advocating for a more modern WIC program to a return to hosting our community at in-person conferences, 2022 has been a massive year for NWA and WIC. We've seen a lot of changes, challenges, and champions in WIC and beyond. To the NWA and WIC communities, thank you for supporting our work and making this a great and impactful year. Keep reading to catch all of the highlights!
Policy & Advocacy
Support & Advocacy in the Infant Formula Crisis
When one of the major infant formula producers had their product recalled and closed one of its plants, parents across the country were left unnerved and in need of support In response, we supported our members with webinars, frequent update calls, a social media toolkit for spreading crucial and correct information, and advocated for the passage of the Access to Baby Formula Act which provided USDA with the authority to issue WIC waiver flexibilities needed to support infant feeding during online shortages. By managing press outreach, we were able to establish NWA as a leading voice on resolving supply shortages and taking a broader look at infant feeding.
NWA Community Taking Collective Action for a Better WIC for All
In 2022, we established a new WIC Advocacy Fellowship program where we introduced four local WIC staff to the day-to-day operations of public policy education and advocacy. Fellows, Amber Granite, Karen George, Dionne Moore-Smith, and Sarah Younker took part in two Capitol Hill Education Days, where they met with members of their Congressional delegations to educate them on the program. Click on each of their names to read a special interview on their interests, passions, and their jobs with WIC!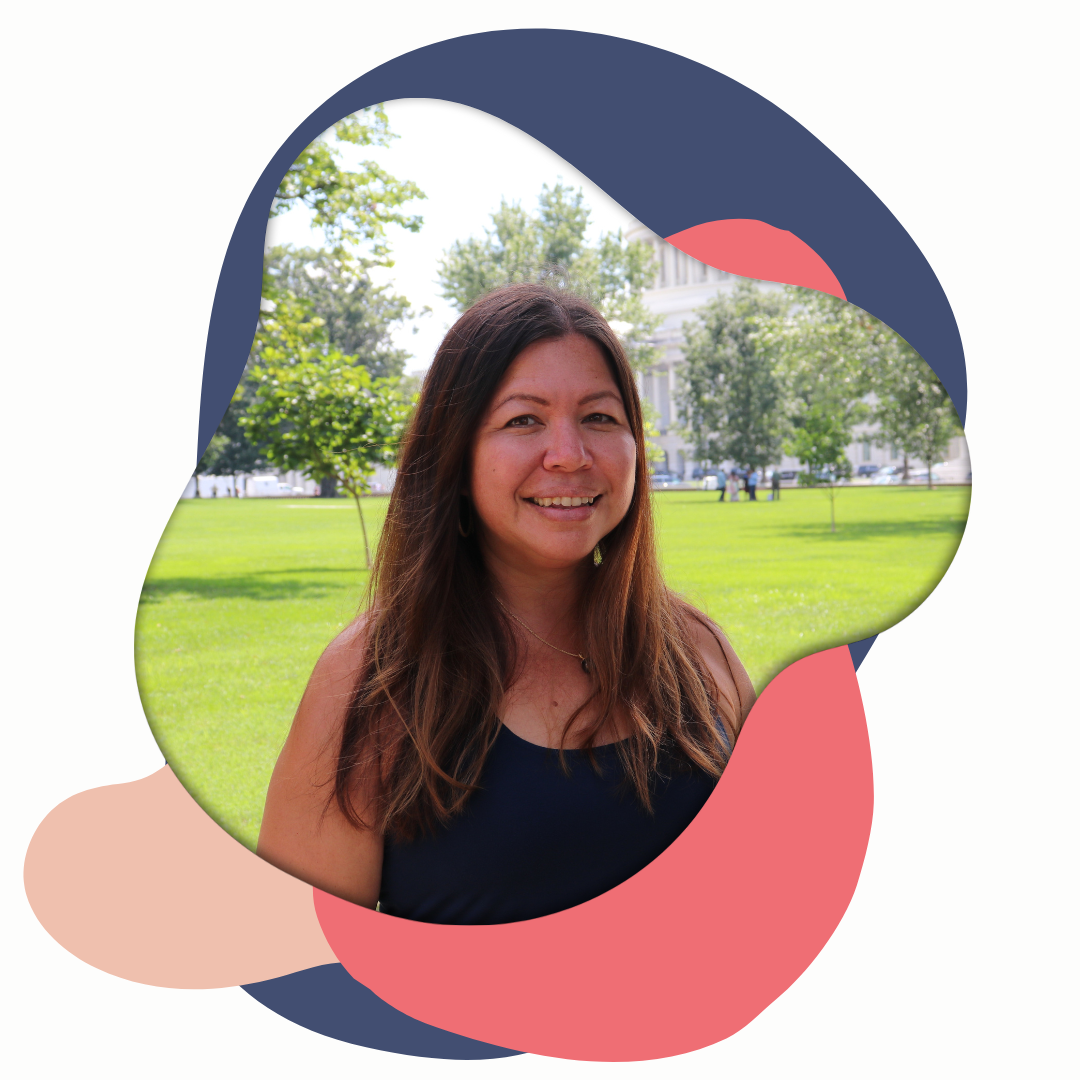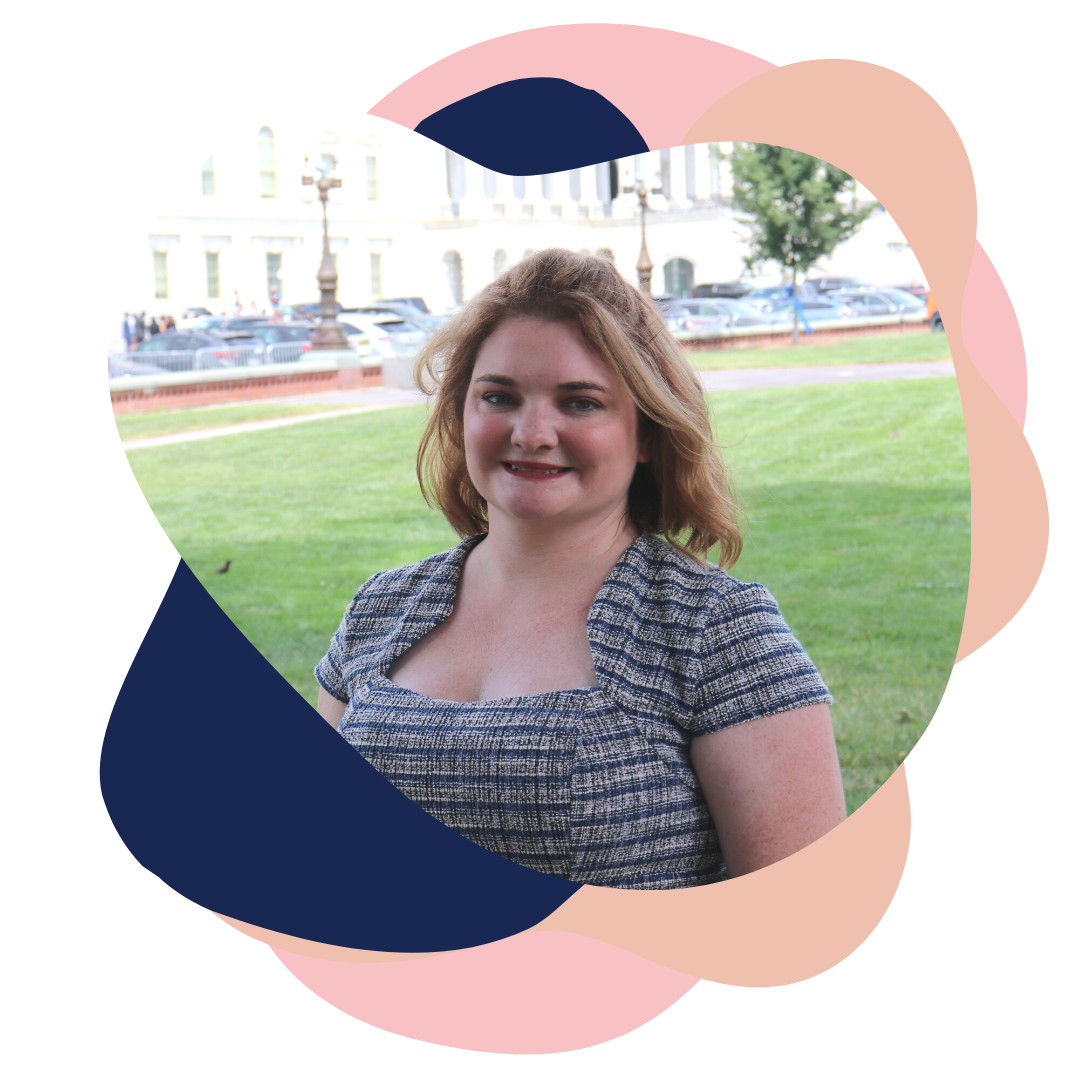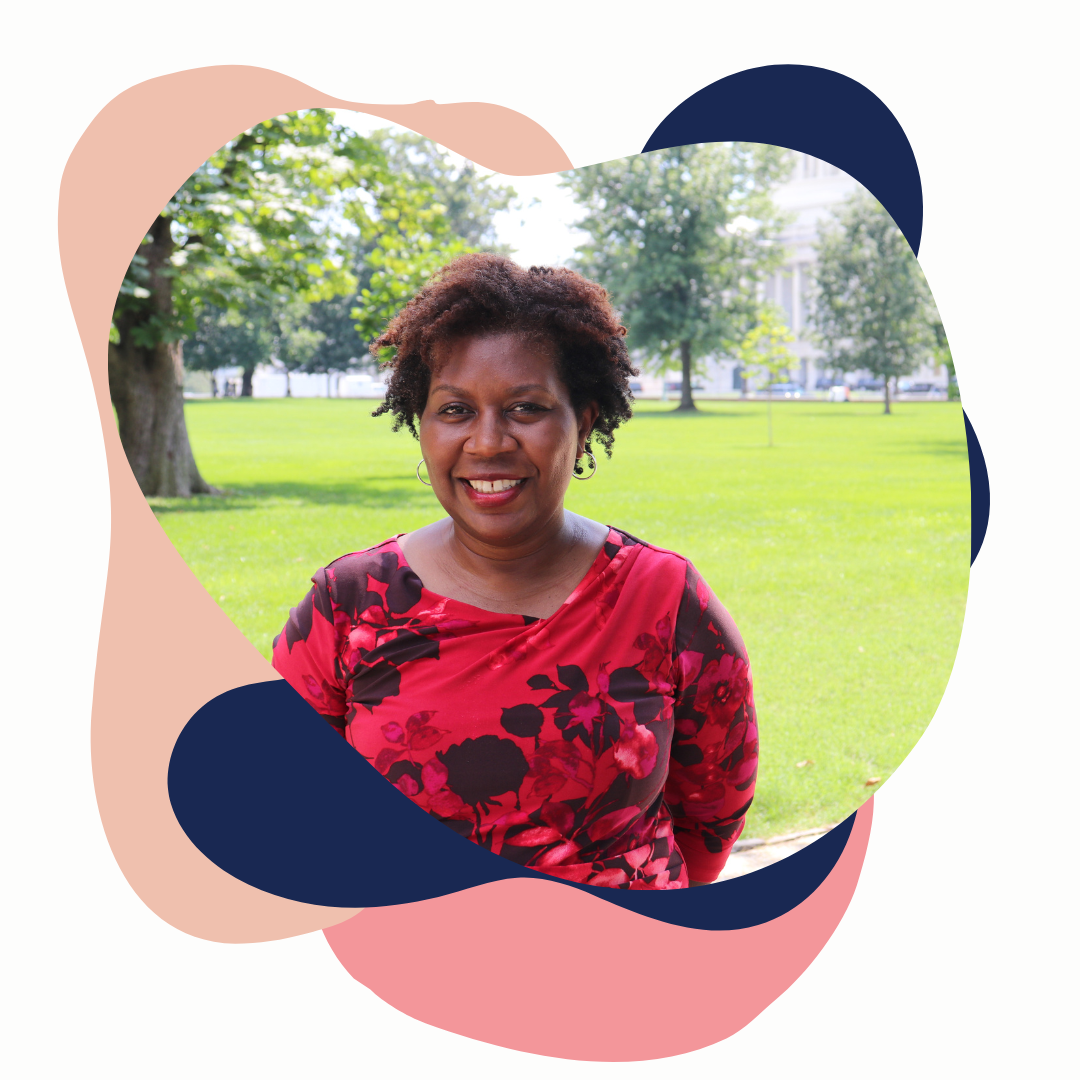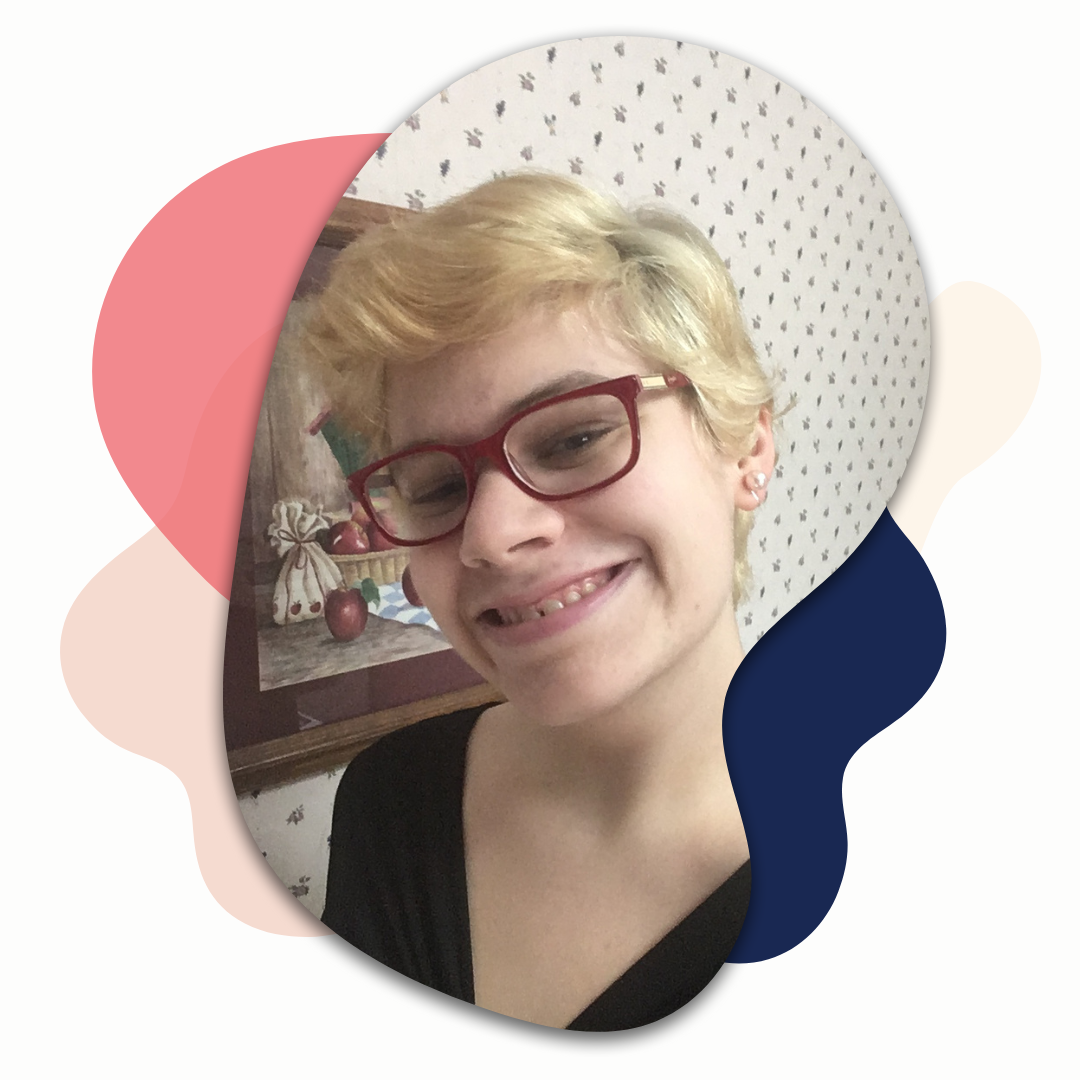 We also created WIC Action Central on the WICHub which gives members of our community easy access to opportunities to take action on important WIC issues as well as to spread the word to their networks!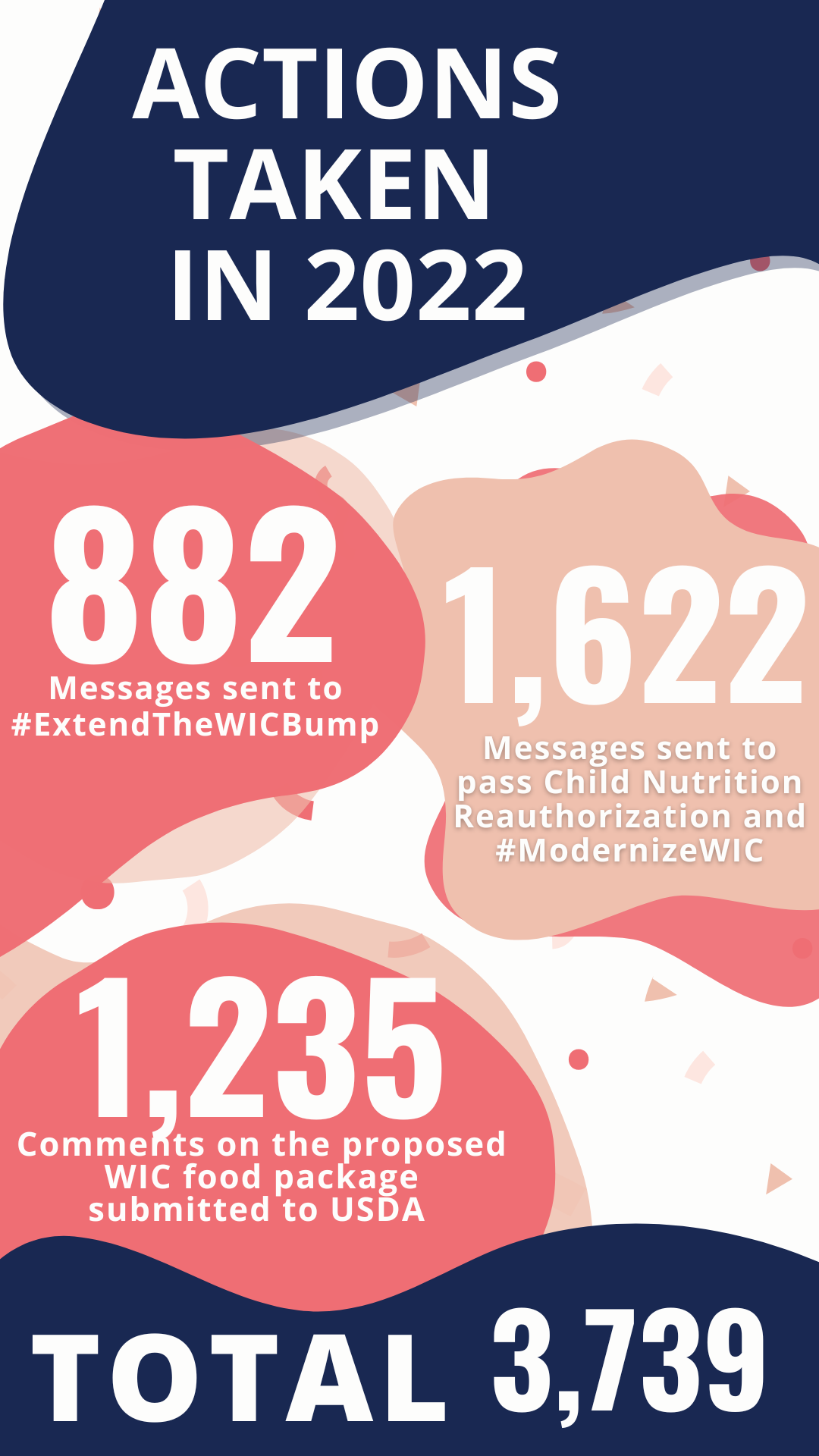 On WIC Action Central, you can find updates and news on WIC policy changes and all of the issues that NWA is currently advocating on, including the 2022 State of WIC report - one of our premiere, annually produced resources available on the WICHub. During 2022, we have three major calls to action for the WIC and NWA communities.
First, we advocated successfully to extend the WIC fruit and vegetable benefit bump into Fiscal Year 2023, which results in a 50% increase in the overall child benefit and doubles the value of the benefit for pregnant and postpartum participants! Then, the House Education and Labor Committee advanced the Healthy Meals, Healthy Kids Act - the first Child Nutrition Reauthorization bill in more than six years! The bill includes revisions to WIC physical presence requirements, expansion of child eligibility to 6 years or the beginning of kindergarten, and the expansion of postpartum eligibility to two years. We released an action alert with a social media toolkit to let the Senate know: It's time to #ModernizeWIC!
Most recently, USDA released its proposed WIC food package rule. This is a critical moment where we as the NWA and WIC communities have the chance to improve the WIC food package by submitting comments for revision to USDA! Click here to learn more and submit your comments! Plus, you can use this social media toolkit to spread the word! Stay tuned for a new toolkit coming in January 2023!
Coming Together in Community
2022 Conferences and Webinars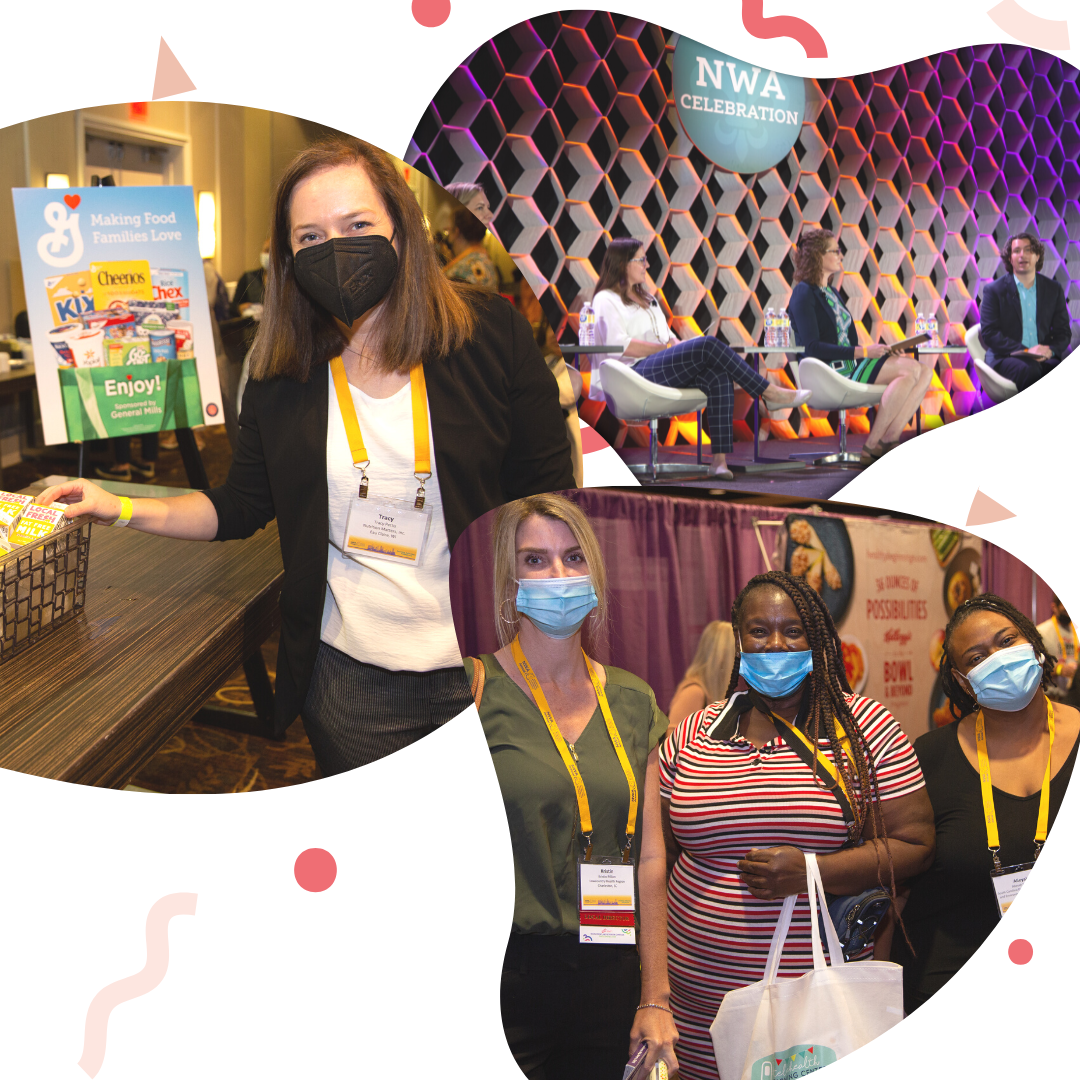 2022 was a big year for coming together around big topics and issues. NWA offered weekly opportunities for members to come together via webinars and learn about the issues impacting the WIC program and best practices for how to better serve families. In May, we came back together in person (and virtually!) in New Orleans for the first time since the beginning of the COVID-19 pandemic at our Annual Conference & Exhibits! In New Orleans, we had the opportunity to hear from USDA officials, WIC experts, and more! Then, in September, we convened in Orlando, Florida for our Nutrition Education and Breastfeeding Promotion Conference! Hundreds of WIC colleagues came together in the community to share insights on nutrition, infant formula, breastfeeding, and more! Visit our conferences page to learn about where we're headed in 2023!
And We're Live!
In celebration of National Breastfeeding Month in August, along with 1000 Days, we held a series of live panel discussions which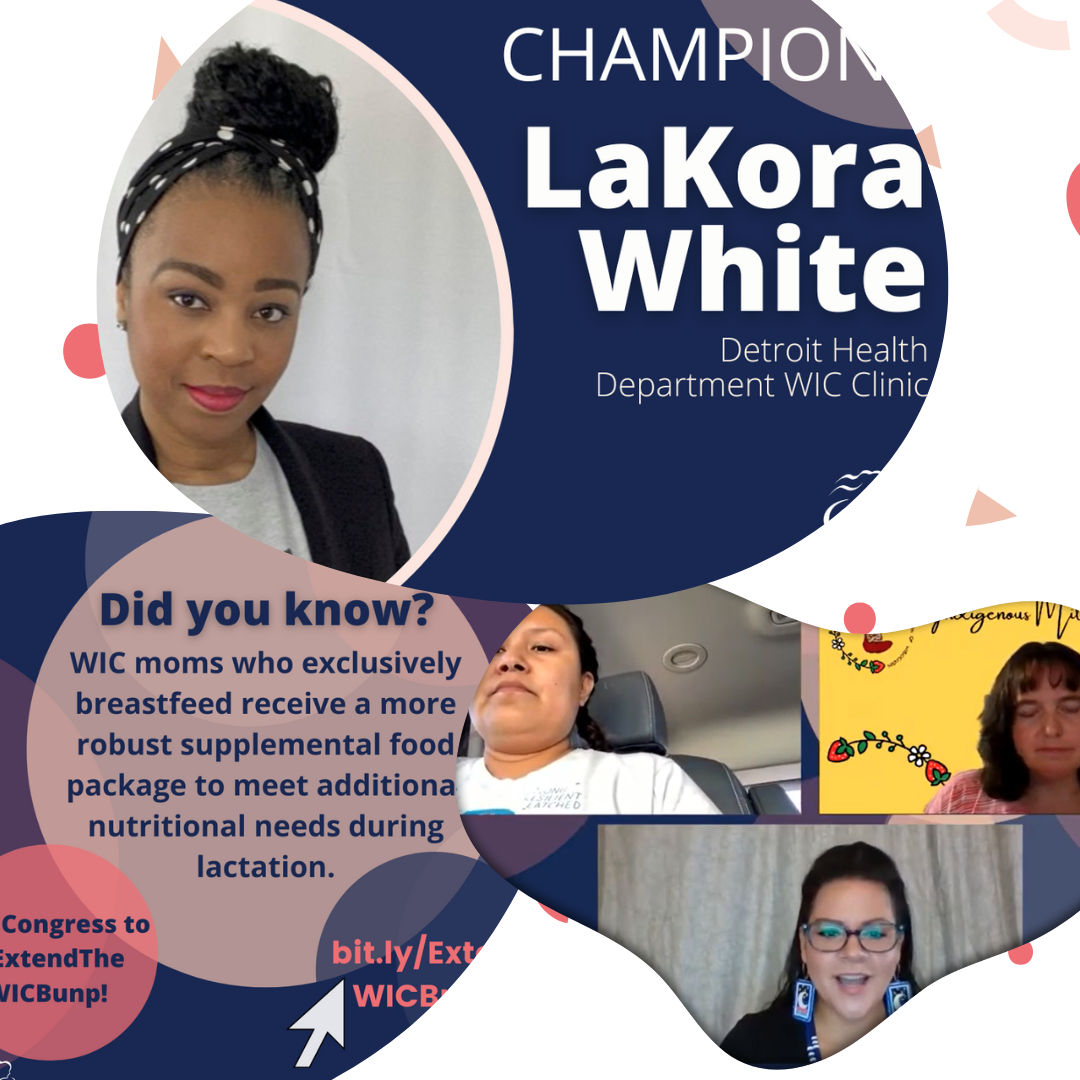 featured the voices of experts in Native, AANHPI, and Black breastfeeding. We also ran a social media campaign to raise awareness on breastfeeding disparities and celebrated our first ever Breastfeeding Champions!
On September 28, 2022, the White House hosted its first Conference on Hunger, Nutrition, and Health in 50 years! We hosted our own NWA watch party where advocates, members of NWA staff, and the NWA and WIC communities gathered in conversation as legislators, and stakeholders held crucial conversations on ending hunger and improving nutrition for Americans. Throughout the day, over 400 members of our community joined, offering their own insights, comments, and cheers!
On the Local Level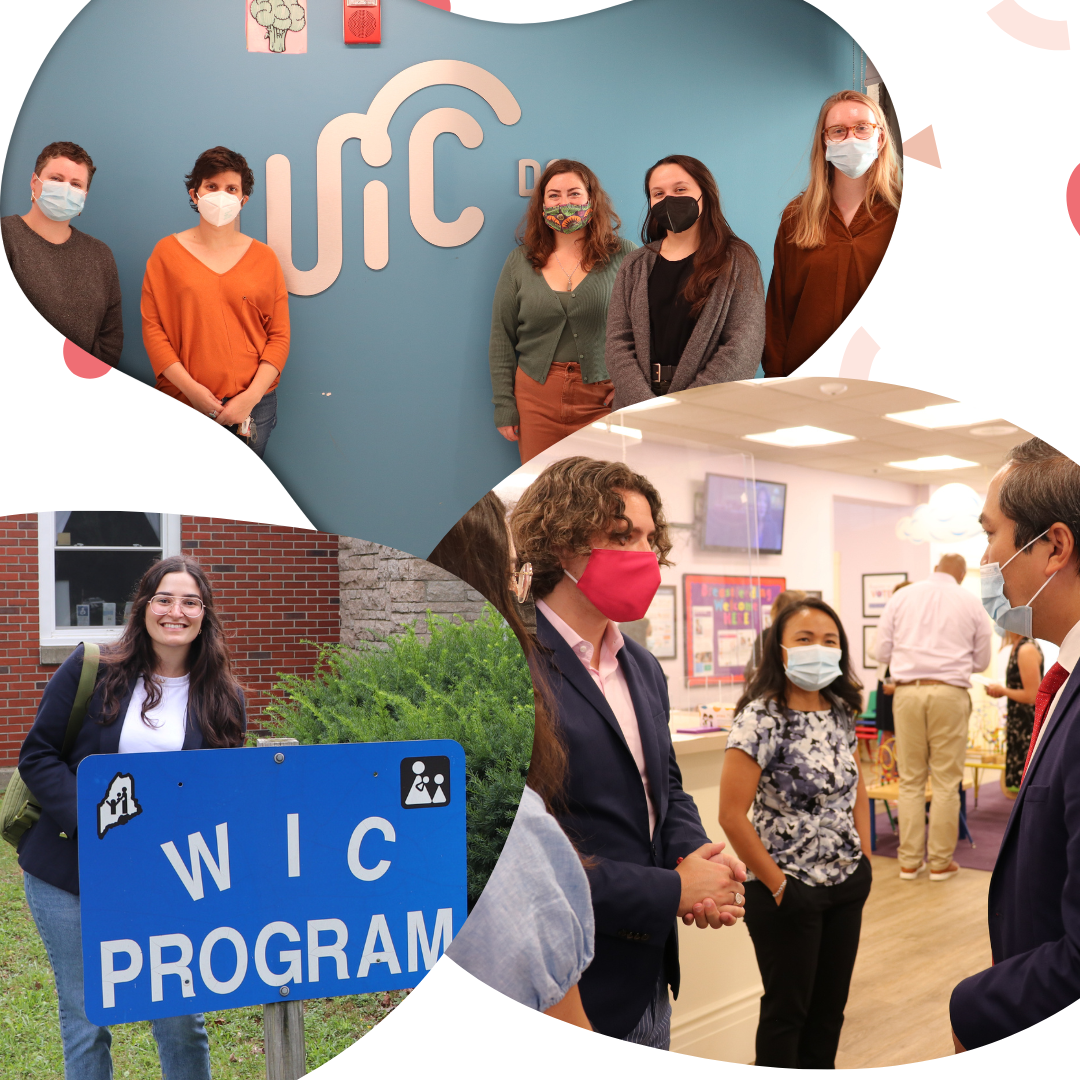 In 2022, we were able to get back to visiting WIC clinics and service providers in person! NWA staff connected with WIC staff and service providers at clinics and WIC sites in Washington, DC. Maine, Wisconsin, New Hampshire, Massachusetts, North Carolina, Arizona, New Mexico, ITOs across the Southwest,and more. We're looking forward to making more local site visits in 2023! In an effort to improve representation of local WIC agencies in NWA, we also reorganized the structure of our Board!
Research Priorities
In July, we published our 2022-2023 Research Priorities with the goal of identifying research areas that will benefit NWA and WIC programs across the country. We want to encourage collaboration between research and connect the cycle of research , practice and policy in order to bring evidence-based practicies to the women, kids, and families who participate in WIC.
Recruitment & Retention
The Recruitment & Retention (R&R) Campaign saw big changes in 2022! NWA started working with a new marketing firm, CMRignite, who spent months doing market research, WIC agency surveys, and focus groups to launch a refreshed R&R Campaign. We launched the WIC Share Portal – a website to house all R&R Campaign content, webinars, creative requests, and clinic updates for signupwic.com. The Health Care Provider (HCP) Outreach Toolkit was released in April and includes information for HCPs and their patients, plus best outreach practices for WIC staff. Another highlight for the R&R Campaign was the first annual National Enrollment Week, an enrollment-focused ad campaign that resulted in nearly 5 million impressions.
Grant Funded Work
In 2019, NWA received a two-year grant from the Walmart Foundation to support a project aimed at Advancing Health Equity to Achieve Diversity & Inclusion (AHEAD) in WIC! As part of the AHEAD project, NWA worked with Nutrition Equity and Justice Partners, a nutrition and health equity consulting company, to conduct a national landscape scan targeting WIC stakeholders to identify emerging and promising practices being implemented at the state and local level to promote equity, diversity, and inclusion (EDI). This year, we concluded the Walmart Foundation grant and published AHEAD in WIC data briefs and case study materials on the WIC Hub!
Robert Wood Johnson Foundation
Earlier this month, we announced that NWA received a project grant from the Robert Wood Johnson Foundation (RWJF) totalling $1,000,000. RWJF works with organizations to remove structural barriers to health and well-being. Over the next two years, RWJF will partner with NWA in our mission to further strengthen and modernize the WIC program. The two-year grant will fund NWA initiatives that center WIC participants, drive enrollment in WIC, support NWA advocacy efforts, and much more.
Welcoming New NWA President & CEO, Dr. Jamila Taylor!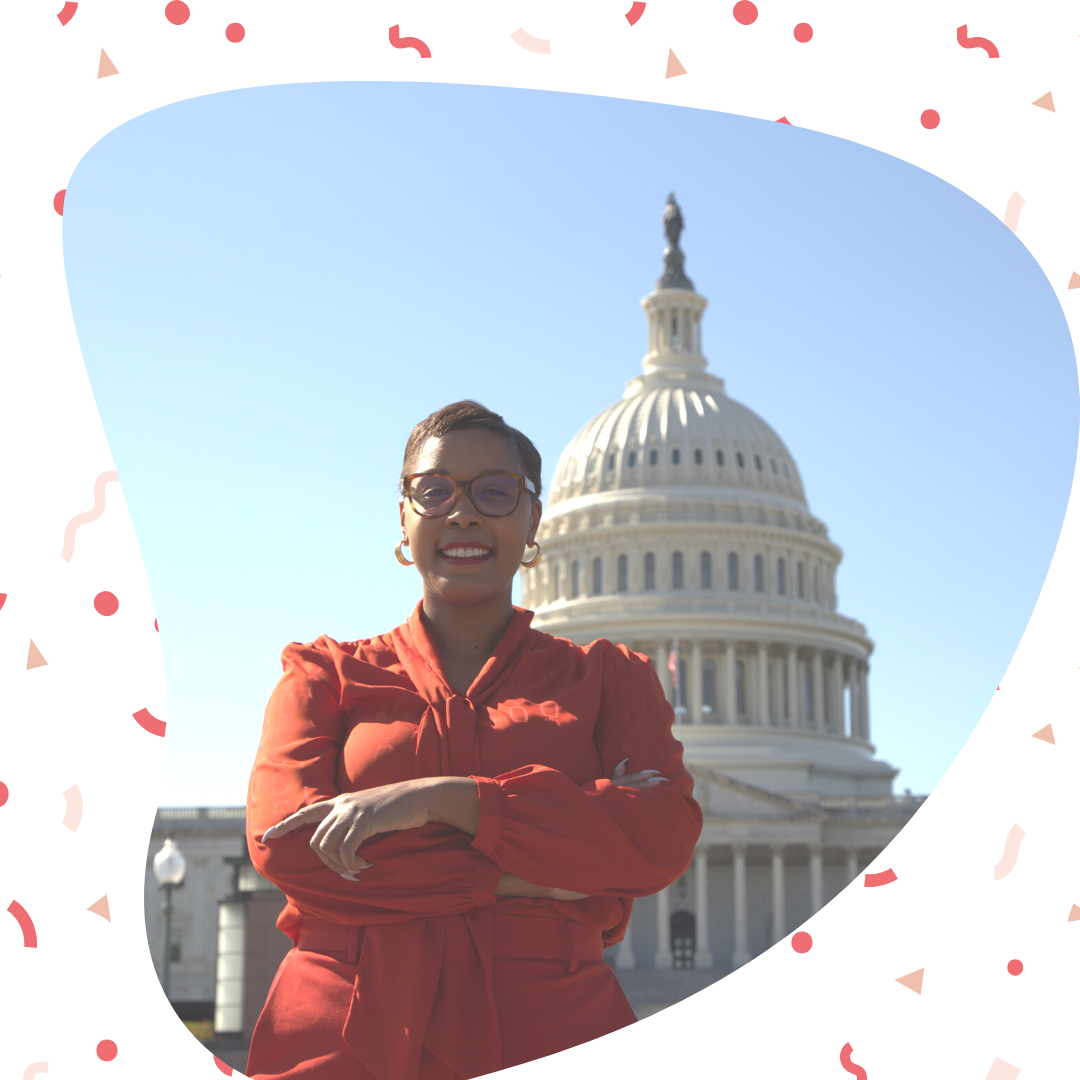 In mid-November, Dr. Jamila Taylor joined our team as the new NWA President & CEO! Dr. Taylor has dedicated over two decades of her career to advancing the health and well-being of women and families. She is dedicated to our mission and we are thrilled for the future of NWA and WIC. Click here to read more about Dr. Taylor and look out for a new Q&A blogpost with her coming early 2023!
From all of us at NWA
We want to thank everyone who makes our community as powerful as ever and dedicates their efforts to strengthening WIC for healthier families. We're looking forward to 2023 with high hopes and and a renewed commitment to health equity, equitable access to nutritious foods, and well-being of families across the country.